NSW Health has confirmed the local government area of Orange in the central west region of NSW will go into a seven-day lockdown from midnight tonight, after a person from the COVID-19 hotspot of south-west Sydney visited the area while infectious with the virus.
The lockdown will also affect residents in the local government areas of Blayney and Cabonne Shire Council.
We'll provide more information on the lockdown shortly.
Three weeks after it outlined its much-publicised road map for living with COVID-19, Singapore is returning to a partial lockdown for a month.
The south-east Asian city state is recording the highest incidence of new cases of the virus in 11 months with growing clusters around nightlife venues and a major fishing port causing alarm.
With 163 new infections recorded on Monday, the country is reverting to the tight restrictions it had in place during May and June, shutting down dining in restaurants, closing indoor venues such as gyms and limiting gatherings to two people.
The development is a setback to Singapore's ambition to start dealing with COVID-19 as it would influenza and treating it as an endemic and manageable disease rather than a pandemic.
However, those plans are tied to vaccination and while it has the highest inoculation levels in the region, with 46 per cent of the population of 5.5 million fully vaccinated and 73 per cent having received one shot, the rate is not yet high enough for Singapore to confidently take the next step.
The latest wave of the virus here sprung from several so-called KTV bars, which are publicly called karaoke outlets but at which sexual services are known to be offered by foreign hostesses.
As we reported earlier today, two more crew members of the BBC California, currently docked at Fremantle, tested positive for COVID-19 on Tuesday.
Ten out of 14 seafarers from the ship, which came to Australia via COVID-19 Delta variant-stricken Indonesia, have now returned positive tests for the virus while the remaining four have completed serology testing showing they have yet to catch COVID-19.
"Our number one priority is don't have COVID come from that ship to shore," Mr McGowan said.
Mr McGowan said one option was to take the four healthy crew members off the ship and put them into hotel quarantine.
The Premier said the state was in conversations with the federal government on how best to manage ship arrivals after several vessels arrived in WA in the past month carrying positive cases.
About 25 stevedores are also being contacted by health authorities after a cargo ship, the Mattina, which was in WA from July 10 to 12 reported nine positive cases of COVID-19 in New Zealand overnight.
Mr McGowan said the WA Chief Health Officer considered any COVID-19 threat from the Mattina to WA to be low risk as it is believed all appropriate disease control protocols were being followed during its time in port.
WA Health is now monitoring 17 active COVID-19 cases; 10 on the BBC California, six in hotel quarantine, and one person in a stable condition in a Perth hospital who had been on board the MV Emerald Indah which had stopped by Geraldton.
West Australian Premier Mark McGowan says the danger level for COVID-19 spread around the country is high but he does not yet want to shut off his state from the rest of the nation.
Free travel is only allowed into the state from New Zealand, the Northern Territory, and Tasmania as the WA government introduced travel restrictions on Tuesday with South Australia, which has gone into a seven-day lockdown.
WA currently has a hard border up with NSW, Queensland, and Victoria as the eastern seaboard deals with lockdowns brought on by outbreaks of the highly infectious Delta variant of COVID-19.
Mr McGowan said his state was not going to close itself off to the NT and Tasmania unless cases started appearing in those jurisdictions.
"Closing off to everyone at this point in time is not something we are doing," he said. "We are in state of heightened anxiety and heightened risk but we need to keep a level head … bear in mind we're basically closed off to 80 per cent of the population of Australia now.
"But it's obviously a big risk what's occurring in Victoria, NSW, South Australia, and Queensland.
"The danger level at the moment is very high, that's why we close borders to entire states."
Mr McGowan said he felt the current spread of the virus in Australia vindicated WA's approach to shut itself off quickly to entire states rather than rely on a hotspot approach.
NSW Health has confirmed the local government area of Orange in the central west region of NSW will go into a seven-day lockdown from midnight tonight, after a person from the COVID-19 hotspot of south-west Sydney visited the area while infectious with the virus.
The lockdown will also affect residents in the local government areas of Blayney and Cabonne Shire Council.
We'll provide more information on the lockdown shortly.
NSW Health has released its latest list of venues of concern, which include tier 1 exposure sites in Sydney's western suburbs, CBD, Bondi Junction and in the regional towns of Orange and Goulburn.
The new venues at which people are considered close contacts and must immediately get tested and isolate for 14 days, regardless of the result, include medical centres, restaurants and pharmacies in Auburn, Lakemba, Wiley Park, Bankstown, Bondi Junction and a car wash in Greenacre.
The regional tier one venues include a Coles Express in Goulburn and a petrol station, tobacconist, Officeworks, Woolworths and Pizza Hut in Orange.
Check the NSW Health tweet below for the full list of venues, dates and times, including those for casual contacts.
Victoria's QR code app will be updated in the coming weeks so that users can access their own check-in history in a move that will emulate the New South Wales and Queensland apps.
The Victorian opposition proposed this change this week and Liberals leader Michael O'Brien said on Tuesday that it would add another layer of assistance to contact tracing efforts.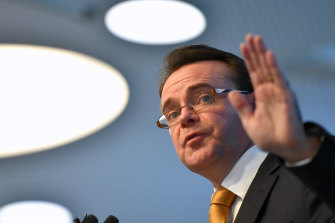 "We know there are still problems with contact tracing. We speak to people every day who have been at tier one exposure sites, and still haven't been contacted by the Department of Health. They have worked it out themselves," he said.
"It'd be much easier for people to be able to work it out themselves if they had access to their own QR codes."
A state government spokeswoman confirmed to The Age that the change would be active in the next few weeks along with a series of other updates to the Service Victoria app.
She said the app would be continually updated in response to user feedback.
"Our contact tracers are working tirelessly to get ahead of the Delta strain. They are able to access QR code check-in data just minutes after identifying a positive case."
West Australian Premier Mark McGowan has urged residents in South Australia to come home immediately, as SA enters a week-long lockdown from 6pm ACST amid a cluster of five COVID-19 cases.
"My advice to any West Australian who is currently in South Australia is to come home now. Things can change rapidly and it is not worth the risk," Mr McGowan said.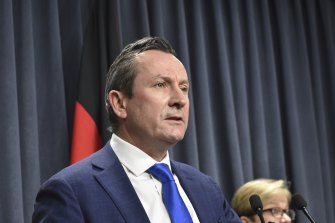 "This is obviously a difficult time for the country. The entire eastern seaboard is currently in a form of lockdown to deal with Delta [strain] outbreaks.
"There's nearly 1,500 cases around the nation and 140 people are in hospital. There's three important lessons: how quickly the Delta variant can spread, how severe the consequences can be, and how important our controlled border is to ensure Western Australia stays safe.
"But I remind everyone, while lockdowns and border closures save lives and jobs, they are not the long-term solution. Vaccination is."
West Australian Premier Mark McGowan is providing a COVID-19 update at about 5.30pm AEST. You can watch it live here.
Workers who have endured the slowest wage growth on record will never make up for the hit to their weekly pay packets caused by the coronavirus pandemic, with the Reserve Bank warning inertia could hold back incomes for years.
In some of its bluntest language about wages growth, the RBA used the minutes of its July meeting to argue there were few signs of a lift in incomes beyond the level that has plagued the economy for the past half-decade.
The bank, which kept official interest rates at 0.1 per cent at its July meeting while announcing plans to slightly wind back its quantitative easing program, has argued wages will need to grow above 3 per cent a year to get inflation back into the RBA's 2 to 3 per cent inflation target.
Wages growth reached a record low of 1.4 per cent during the depths of the pandemic last year, before inching up to 1.5 per cent annual growth in the March quarter.
Another exposure site linked to Sydney removalists who travelled to Victoria while infectious with COVID-19 has emerged in regional Victoria.
A BP roadhouse in the western Victorian town Nhill was confirmed on Tuesday as a tier-two location.
West Wimmera Health Service chief executive Ritchie Dodds said the exposure period was between 10pm and 11.30pm on July 8.
"We understand it relates to the removalists," he said.
Mr Dodds was hopeful it would not result in further cases but urged people to come forward for testing if they had been at the site during the exposure period and isolate until they received a negative result.
He said there already had been a spike in demand for testing when it was confirmed the removalists had been in Ballan because it was also on the Western Highway, like Nhill.
But he said there was capacity to meet another surge in testing. "We're already on the crest of that wave."