Mr Hunter said Punchard told the man he would need to see the court order he was using to support his case to get his former partner's address, and Punchard also checked there were no recorded allegations of domestic violence against the man before handing over his ex-partner's address.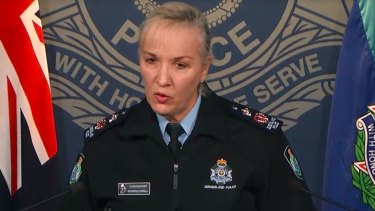 These arguments drew criticism from Justice Walter Sofronoff and Justice Debra Mullins.
"That submission completely ignores the risk of potential domestic violence," Justice Mullins said.
"He's a police officer who accesses confidential information and breaches the trust imposed on the police force, in order to help his friend in a marital dispute," Justice Sofronoff said.
"[It is] a completely improper thing to do and not in the slightest degree justified by the reasons why he did it. So what does it matter whether he looked up whether there is a history of domestic violence or insisted upon the presentation of the court order?
"All of it was wrongly and it was a terrible breach of trust."
Mr Hunter said his point was to respond to the argument put forward by Angus Edwards – the lawyer representing Commissioner Carroll.
"He didn't unquestionably accept what he had been told, he required the product of the [court] order, which specified the requirements that disclosed the address, and he checked to ascertain that there were no recorded allegations of domestic violence," Mr Hunter said.
Justices Hugh Fraser, Sofronoff and Mullins, who heard the case, will make and release their decision at a later date.