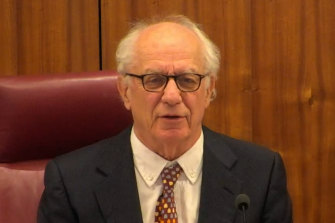 Should 'new' Crown be allowed to operate in future it will be a very different beast with a different more modest earnings profile.
And it looks unlikely that 'new' Crown will be allowed to boast Helen Coonan as its head given recommendations from counsel assisting that she is unsuitable to be associated with the licensee.
As such, investing in Crown Resorts shares is now a crapshoot.
Despite the litany of Crown's wrongdoing, the breaches of the law, and its ethical paucity outlined by counsel assisting in its final submission, the market is clearly still betting the company will retain its licence.
Such a gutsy call will be informed by the view that the state government will be loath to turn off the tax tap that has flowed from Crown. It will also hate to make a call on the casino that will see its 9000 staff out of a job and a major tourism attraction mothballed.
Loading
If Finkelstein recommends Crown's licence be cancelled, it will then be the Andrews government that will face the test of whether money trumps public interest – the test that Crown has already failed.
It was a far easier decision for the NSW government regulator to find Crown unfit to hold a licence in Sydney as the Barangaroo development had not yet opened and the government was facing the spectre of losing future tax revenue. Victoria has been suckling on Crown Melbourne's revenue since 1997.
But the revelations from the Victorian royal commission have been far more damaging and are more contemporary. This puts the pressure squarely on the NSW gaming regulator to keep Barangaroo closed for an extended period – and well beyond this year.
If Crown's Melbourne licence is cancelled, it is difficult to see how Sydney could ever open under its current ownership.
The financial consequences for Crown of losing its licence would be devastating. It has already warned it could default on its loans.
But for Packer the hit would be enormous. Most of his wealth is tied up in his 37 per cent stake in Crown and his lifestyle is funded from the hundreds of millions of dollars it generates.
He will have already felt the pinch of Crown's inability to pay a dividend in 2020 on the back of COVID closures of Crown's gaming facility.
The 2021 financial year will be a scorched earth period for dividends as Melbourne has suffered two pandemic-induced lockdowns.
Loading
For those parties including Sydney's Star and private equity group, Blackstone, that have shown interest in a Crown takeover but have been rejected or ignored by the board, one would imagine they are sitting on the sidelines waiting to see what Finkelstein delivers in October when his findings are released.
The Market Recap newsletter is a wrap of the day's trading. Get it each weekday afternoon.