The Olympic Games are coming to Australian shores for the third time, with Brisbane being officially named as host of the Olympic and Paralympic Games for 2032 just a few minutes ago.
Prime Minister Scott Morrison has been among those celebrating the news, saying the 2032 Olympic and Paralympic Games in Queensland will forge an enduring legacy for our entire nation.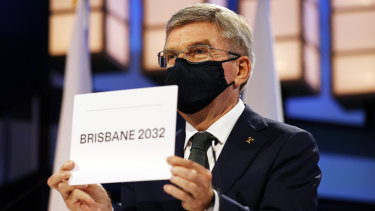 "They will support economic growth and investment, deliver lasting community benefits and inspire the next generation of Australian athletes," he said in the AOC's press release.
"I am proud of Australia, proud of Queensland and proud of our team that secured this win for our country.
"The Commonwealth Government has supported Brisbane's candidacy for the 2032 Olympic and Paralympic Games right from the very start. We believe in this bid.
"We know it's a huge opportunity for our nation, just like the Melbourne Games in 1956 and the Sydney Olympics in 2000."
You can read all about the win here, and we have live coverage of Olympics updates over on the Tokyo Olympics live blog with Dominic Bossi and Vince Rugari.
A Victorian pub owner who openly flouted COVID-19 lockdown rules says he'll refuse to pay a fine of close to $22,000.
Trevor Andrews, who owns the Pastoral Hotel in Echuca, threw open the doors to the pub on Monday, serving people at the bar and some in the bistro.
Speaking to Nine News on Tuesday, he pointed to business expenses and no COVID cases in the area as a reason for defying the lockdown rules.
Nine reported police issued Mr Andrews a formal warning on Monday night and fined some patrons. On Wednesday night, Nine reported police had since fined the pub owner close to $22,000 – an amount Mr Andrews said he was unwilling to pay. Nine also reported police fined 40 of Mr Andrews' patrons.
Brisbane will host the 2032 Olympic Games, it's been confirmed.
It comes after Queensland recorded one new coronavirus case yesterday: a fully-vaccinated woman in her 20s who returned to the Sunshine State after visiting a Melbourne exposure site. Authorities say she was infectious in the community for a couple of days.
NSW Health has issued its latest list of venues of concern, with 24 new sites listed and an update to an existing site.
The list includes a number of medical practices and businesses in Sydney's west and south (Auburn, Merrylands, Lakemba, Punchbowl and Mascot), and the Illawarra (Wollongong and Fairy Meadow), with tier one level exposure.
People who attended the following are close contacts and must get tested immediately and isolate for 14 days regardless of their test result:
Merrylands: Cincotta Chemist, 185 Merrylands Road, Thursday July 15 8pm – 9pm
Auburn: Cincotta Chemist, 47-51 Auburn Road, Friday 16 July 11am – 12pm
Auburn: Australia Post, Shop 5, 57 Queen Street, Monday 12 July 11.30am – 11.50am
Lakemba: Haldon Street Medical Practice, 101-103 Haldon Street, Wednesday 14 July 12.30pm – 1.30pm, Saturday 17 July 2.30pm – 4.30pm, Sunday 18 July 3.50pm – 4.40pm
Lakemba: Street Gear, 108 Haldon Street, Friday 16 July 3pm – 5pm
Punchbowl: INDOmarket, 250 The Boulevarde, Saturday 17 July 9.30am – 9.50am
Mascot: Flower Power (landscape station), 84A Wentworth Avenue, Saturday 17 July 8.30am – 11.30am
Wollongong: Wollongong Dermatologist, 193 Church Street, Thursday 15 July 9.30am – 11am
Wollongong: Bubbleberry Yoghurt Wollongong, 78 Market St, Saturday 17 July 6pm – 6.05pm
Fairy Meadow: BP Truckstop, 224 Princes Hwy (corner of Mount Ousley), Thursday 15 July 10am – 10.05am
People who attended the following are casual contacts and must get tested immediately and isolate until obtaining a negative result:
Mascot: Flower Power Mascot (everywhere excluding the landscape section), 84A Wentworth Avenue, Saturday 17 July 8.30am – 11.30am
Greenfield: Greenfield Pharmacy, Shop 7 Greenfield Park Shopping Village, Greenfield Road, Monday 12 July 11.45am – 12.15pm
Penrith: Bunnings, 2169 Castlereagh Road, Sunday 18 July 3.35pm – 3.45pm, Sunday 18 July 5.15pm – 5.35pm
Revesby: McDonalds, 2 The River Road, Thursday 15 July 8.45am – 9am, 10.45am – 11am, 3.15pm – 3.30pm; Friday 16 July 9.15am – 9.30am
Milperra: Milperra Newsagency, 6 Bullecourt Avenue, Friday 16 July 12pm – 12.15pm
Milperra: Amcal Pharmacy, 6 Bullecourt Avenue, Friday 16 July 12pm – 12.15pm
Green Valley: Kim Ngoc Grocery, Shop 33-35 The Valley Plaza, 187 Wilson Road, Saturday 17 July 2.55pm – 3.15pm
Green Valley: Woolworths, 187 Wilson Road, Friday 16 July 3.15pm – 3.45pm
Parramatta: Bartelli Café, 1/2-12 Macquarie Street, Friday 16 July 12pm – 12.30pm
Campsie: Breadtop, 14-28 Amy Street, Friday 16 July 7am – 2pm
Campsie: Woolworths, 68-72 Evaline Street, Thursday 15 July 4.10pm – 4.30pm
Cecil Hill: Mili and Co Café, 3/1 Lancaster Avenue, Friday 16 July 10.30am – 11am
Liverpool: Freechoice, 267 Biggie Street, Friday 16 July 5pm – 5.30pm
West Pennant Hills: 7-Eleven, 552 Pennant Hills Road, Thursday 15 July 6.30am – 6.40am
St Peters: Procycles, 140 Princess Highway, Thursday 15 July 12pm – 12.20pm
In addition to the new venues listed, NSW advises of additional exposure times at the previously-announced Chemist Warehouse in Fairfield. Anyone who attended at the times listed is a casual contact who must immediately get tested and isolate until a negative result is received.
If your date of exposure at this venue occurred in the past four days, you must get another test on day 5 from the date of exposure. Wear a mask around others and limit your movements until you get another negative result.
Fairfield: Chemist Warehouse, 8 Kenyon Street, Friday 16 July 3pm – 3.15pm, 4.40pm – 5.30pm
A Chilean taekwondo competitor and a Dutch skateboarder have both been removed from competition in Tokyo after testing positive to COVID-19.
They are the first athletes forced to withdraw form competition after recording positive tests. Other athletes who have tested positive have been isolated but not yet forced out of the Games.
According to Games website Inside the Games, the Dutch skateboarder Candy Jacobs was in the village when she returned a positive test and will not compete.
Fernanda Aguirre twice tested positive at the airport as she was preparing to fly to Tokyo and will now have a 10-day quarantine.
Jacobs was the fourth athlete to test positive while inside the Olympic Village.
South African footballers Thabiso Monyane and Kamohelo Mahlatsi and Czech beach volleyball player Ondřej Perušič have all also tested positive. It also emerged this morning that a Czech coach tested positive.
"I'm devastated," the 31-year-old Dutch skateboarder said. "We were ready for the Games, I feel fit and now it's over. I need time to process this but I wish my team all the strength and success in Tokyo."
A child under five is among the new cases of COVID-19 reported in the community in South Australia this evening.
The child attended a known exposure site, The Greek on Halifax restaurant in Adelaide's CBD. Two cases were already associated with this venue.
"I would say that both The Greek on Halifax and this winery [Tenafeate Creek Winery in Yattalunga, linked to five cases] are examples of super-spreading events," South Australia's Chief Health Public Officer Nicola Spurrier said. "It is very serious. I am concerned."
There are now 12 cases associated with the cluster of COVID-19 cases in South Australia. The state entered into a week-long lockdown at 6pm local time yesterday.
South Australia's Chief Public Health Officer, Nicola Spurrier, has provided more information about the five cases linked to a winery visited by a person infectious with COVID-19 on Sunday.
The positive case visited Tenafeate Creek Winery in Yattalunga on Sunday between 1.45 to 4.30pm and testing had now confirmed "they've managed to infect five people", Professor Spurrier said.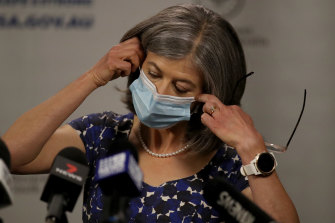 "We have a woman in her 50s, a man in his 50s, a woman in her 60s, a man in his 40s and also a woman in her 80s that have tested positive.
"My understanding is that the man in his 40s related to the school [Gawler and District College B-12, and] had attended the school on Monday, and then has been in quarantine since then."
Professor Spurrier said "the time between getting exposed to this Delta variant [of COVID-19], getting enough virus in your system to infect another person, may be as short as 24-36 hours.
"So we are very concerned, even despite that short time interval between the exposure at the winery on Sunday, and now these people becoming positive."
South Australian Premier Steven Marshall is providing a second COVID-19 update today and says the state's cases have increased sharply from six to 12.
Just one new COVID-19 case had been reported this morning, bringing the total number of cases in the cluster at that time to six.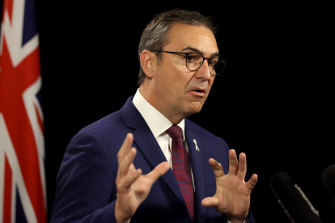 But Mr Marshall said there were now five cases associated with the Tenafeate Creek Winery in Yattalunga, which was visited by an infectious person on Sunday afternoon from 1.45pm to 4.30pm.
"So five new cases linked there, and one additional case linked to The Greek on Halifax Street [in Adelaide]," he said.
Mr Marshall said: "Most concerning is one of the new exposure sites, which is the Gawler and District College B-12. One of the teachers infected was at this site yesterday."
"This is exactly and precisely why we needed to move South Australia into a lockdown situation. In fact, I'm very grateful to the people of South Australia who have abided by the new restrictions since they were announced on Monday, and of course the lockdown situation that was put in place as of 6pm yesterday.
"It would have been a very difficult situation if these six new cases were out and about in the community."
South Australian Premier Steven Marshall, Health Minister Stephen Wade and Chief Public Health Officer Nicola Spurrier are providing a second COVID-19 update at about 5pm AEST. You can watch it here.
The nation's economy is going to shrink over the September quarter and leave more workers unemployed, with Prime Minister Scott Morrison warning the damage from lockdowns will be significant but followed by a sharp recovery before Christmas.
Mr Morrison on Wednesday said the lockdowns in Victoria, NSW and South Australia would weigh heavily on the economy and employment in the three months to September. But he is confident of a rebound by the December quarter avoiding a technical recession, defined as two quarters of negative GDP growth.
"The economic impact of this, of course, will be a heavy blow," Mr Morrison said. "But it's not a blow we can't recover from, and how do I know that? Because last year when we faced the same heavy blow, we turned it around and got a million people back into work."