Japan's ambassador to Australia said his country would never allow a Chinese company to own a Japanese port, in a strong signal that Tokyo is uneasy about the Northern Territory's 99-year lease of the Port of Darwin to Landbridge.
Ambassador Shingo Yamagami also rebutted suggestions that the Australian government had mismanaged its relationship with China, saying Japan had endured Beijing's trade strikes and periods of diplomatic hostility in the past.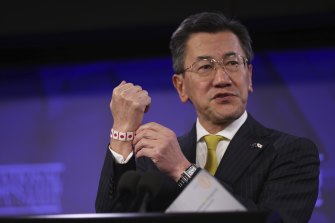 The Department of Defence is reviewing the Northern Territory's lease of the Port of Darwin to the Chinese-owned company – a deal that has unsettled national security figures in the federal government since it was signed six years ago.
"Could it happen in Japan? I cannot imagine the same to take place in ports like Sasebo or Yokosuka. I can't imagine that," Mr Yamagami told the National Press Club in Canberra.
"But it's a decision for the Australian government to make, so as the Japanese ambassador to Australia I am making a rule not to poke my nose into the domestic politics of both Australia and Japan."
The Sydney Morning Herald and The Age revealed in May that cabinet's national security committee had asked the Defence Department to review the territory government's 99-year lease of the port to Landbridge in 2015.
This could result in the company, owned by Chinese billionaire Ye Cheng, having to divest the strategically important asset on national security grounds under critical infrastructure laws passed in 2018.
The relationship between China and Australia has deteriorated to its lowest level in decades over the past 18 months with China imposing more than $20 billion of trade strikes on Australia after it called for an independent global inquiry into the outbreak of COVID-19.
Critics of the way the federal government has handled the relationship, including the federal Opposition, have raised the case of Japan as an example of a country which is critical of Beijing but still maintains high levels of diplomatic engagement.