Second-up syndrome got the better of lightly raced three-year-old King Of Hearts three weeks ago but trainer Craig Carmody is adamant he can rebound at Kembla Grange on Thursday.
King Of Hearts produced an amazing performance in a 1250m maiden first-up at Canterbury a month ago, tailing out before enduring a checkered run in the straight and going under by less than a length as a $26 chance.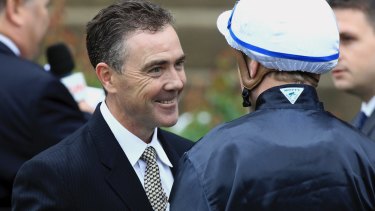 He ventured to Newcastle 10 days later, starting $2.30, and wasn't the same horse with Carmody blaming the short turnaround for the performance.
"I went to Newcastle a little concerned about the quick back-up after the first-up run," he said. "I had this inkling and I hoped it wouldn't come back to bite us, second-up at 1400m with a change of tempo.
"He was up closer and that burst of speed over the last 600m wasn't evident at Newcastle. We've brightened the horse up again and we're really happy with how he's going."
Carmody has to make a choice come scratching time between the Frank Powyer Handicap (1400m), where he has James McDonald booked to ride, and the Maurice Logue Handicap (1300m) with Kathy O'Hara to ride if he runs there.
O'Hara rode the gelding first-up at Canterbury so Carmody said there are advantages to both options, his bigger concern is the 9m rail and how that will affect backmarkers.
"It's not ideal when the rail is out at Kembla but it's fantastic to have James on if we go that way and Kathy knows him so that's also a bonus," he said. "Whichever way we go we're going to be in a good position.
"Provided we are playing on a fair track I'd say if there's consistent speed and he's allowed to find his feet, be comfortable where he is, he should accelerate. I'm sure he'll produce it."