It might be a cool night by Brisbane standards but crowds on the riverbank have celebrated the city's Olympics win.
Here's a selection of the scenes: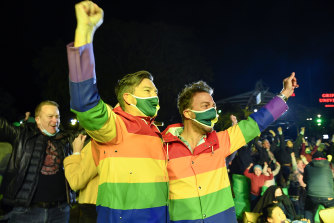 Back to Tokyo 2020, and there's plenty happening . We mentioned the women's football match between the United States and Sweden earlier – they're the other two teams in Australia's group, aside from New Zealand.
Well, we could have a boilover on our hands. The USA – who are four-time gold medallists, and have won the last two Women's World Cups – are currently 1-0 down to Sweden, who took the lead in the 25th minute through Stina Blackstenius.
There's huge implications for how the Matildas' Tokyo campaign will unfold, but that's just huge in general – many people though this Olympic tournament was as foregone a conclusion as the 2032 bidding process. That is to say, the USA are hot favourites, and now they have it all to do.
By way of reminder, we're around two hours and 20 minutes away from kick-off between the Matildas and New Zealand. Australia's got Sweden next up on Saturday.
Australian Sports Commission chair Josephine Sukkar has also welcomed the IOC's decision, and says an extended 11-year runway to 2032 provides an incredible opportunity to unite the nation through sport.
"When you consider how successful Sydney 2000 was and how those Games still carry an enormous legacy today, the extended build-up to Brisbane 2032 is an incredible opportunity to again unite Australia through sport," Ms Sukkar said in a statement.
"For a lucky few, competing in Brisbane will represent an opportunity of a lifetime. All of us, however, can benefit from the positive influence of a home Games if we embrace it.
"We must take advantage of the laser-like focus hosting a home Games presents us. It is a chance to drive sport participation, re-invigorate volunteering, elevate our inspiring sporting heroes and continue building our vision for sustainable success across Australian sport.
"There is a golden decade of major sporting events on home soil ahead, with World Cups or World Championships locked in for basketball, cricket, football, and netball, to name some. Every sport needs to take advantage of this generational opportunity, to capture the hearts and minds of Australians. We are ready for this moment.
"We acknowledge the hard work of all that have contributed to this successful Brisbane 2032 bid, including the Australian Government, Queensland Government, Australian Olympic Committee and Paralympics Australia."
Prime Minister Scott Morrison says the 2032 Olympic and Paralympic Games in Queensland will forge an enduring legacy for our entire nation.
"They will support economic growth and investment, deliver lasting community benefits and inspire the next generation of Australian athletes," he said in the AOC's press release, issued just now.
"I am proud of Australia, proud of Queensland and proud of our team that secured this win for our country.
"The Commonwealth Government has supported Brisbane's candidacy for the 2032 Olympic and Paralympic Games right from the very start. We believe in this bid.
"We know it's a huge opportunity for our nation, just like the Melbourne Games in 1956 and the Sydney Olympics in 2000."
Prime Minister Scott Morrison has released a statement welcoming the confirmation of Brisbane as the host of the 2032 Olympics saying it was a "coup for the nation".
"It's a historic day not just for Brisbane and Queensland, but for the entire country," he said. "Only global cities can secure the Olympic Games – so this is fitting recognition for Brisbane's standing across our region and the world.
"It also marks an important leap forward for Australia as we look toward major events that lock in economic growth and social benefits that will echo for years to come.
"We know the impact on Sydney more than two decades ago was transformative. We can now expect a repeat for Brisbane and communities across Queensland.
"It's a proud day for Queenslanders and Australians everywhere."
…and as it turns out, it wasn't a totally unanimous decision.
There were 72 votes for Brisbane's bid, but three abstensions and five against, it's been revealed.
Leave it to Phil Lutton to give you the perspective on this momentous decision through his maroon-tinted glasses.
"It shouldn't take long to win everyone over," Lutton writes here.
"Queensland supplies half of the Olympic team anyway, so it makes sense to cut down on travel.
"And once I paint a vivid picture of Johnathan Thurston lighting the cauldron by curling in a flaming Steeden from the left-hand touchline, they will give themselves over to the cause."
Brisbane's Olympic announcement came through delayed for those gathering on the banks of the Brisbane River as the livestream switched to Tokyo showing the committee already celebrating.
As the crowd heard from Olympians as the announcement drew closer, it was realised Brisbane's success had already been revealed.
But the mishap didn't deter the crowd as thousands danced as fireworks lit up the city.
If there were any lingering doubts about whether Brisbane already had the 2032 Games in the bag, they were dispelled at 2pm on Wednesday when the Brisbane delegation sat down for an exclusive lunch hosted by IOC boss Thomas Bach.
The delegation was due to deliver its final pitch to host the Games to the floor of the IOC congress in a conference room of the Yokyo's Okura hotel in a little under two hours time.
Once Queensland Premier Annastasia Palaszczuk, Brisbane Lord Mayor Adrian Schrinner and federal Sports Minister Richard Colbeck were greeted by Bach, they knew that only Brisbane was on the IOC menu.
Read the rest of this terrific analysis on the intricacies of the Brisbane bid from Chip Le Grand here.
Paralympics Australia says hosting the Games on home turf will allow it to "supercharge" its long-held philosophy of driving societal change, including transforming attitudes to people with disabilities and a targeted aim to reduce inactivity among Australians by 15 per cent by the end of the decade.
The governing body for para-sports in Australia will look to the legacy of past events – namely the highly-successful 2012 London Paralympics – as the blueprint for how new standards for accessibility and equality are met.
Paralympics Australia boss Lynne Anderson wants the Games to leave their own legacy.
"The real key for us as custodians of the Paralympic movement in Australia is about the social impact that the 2032 Paralympic Games will bring," said Anderson.
"The fact is there is still inequity for Australians with a disability. There isn't universal accessibility to venues or transport. Those with a disability who want to try a new sport or find a new club don't always have that chance through no fault of their own."
It is because our society is still not equipped to cater for all abilities."
PA president Jock O'Callaghan said they would be guided by the principles of inclusion and diversity.
"Today we begin the next chapter of a quest that started when the first Paralympic Games was staged, in Rome in 1960 – that is, the mission to facilitate fair recognition and opportunities for people who live with a disability," O'Callaghan said.
"Over the next decade, as we lead into Brisbane 2032, long term benefits will be realised across Australia, including in employment, skills, education, health and wellbeing outcomes, higher sporting participation rates, and in culture and community connection."