"Last year's experience gives them lots of understanding of what states have to do," McGowan said.
Loading
"Obviously Melbourne is going through a difficult time. I don't want to … be seen to be trying to take advantage of Melbourne's dire circumstances, but we'll continue to have conversations with the AFL to make sure that the competition can continue.
"But if it comes here, it will be done in an extremely safe way, so we wouldn't take any risks."
Where and when finals are played during the first three weeks of the AFL finals series is more likely to be determined on a week-to-week basis, however, than relocating finalists to hubs to play games in Victoria or Western Australia during September.
Sources at the AFL said it was impossible to put such plans into place five weeks out from the start of finals as the Delta strain of COVID forces state governments into making quick decisions that can rapidly impact their ability to host games, as was seen in South Australia this week.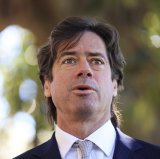 It means the AFL's discussions with governments are now centred around providing them with the flexibility to consider the options available, where crowds were allowed, and what impact the decision will have on the integrity of the competition, before they made calls on where and when each final was played.
At the moment, there is a club from each of the five states in the top eight.
The league is working with all state governments and venue operators to develop contingency plans that give them as much flexibility as possible to move teams across borders in what the AFL calls 'sterile corridors'.