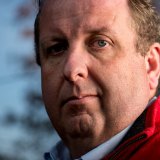 Woolworths disputed that the workers were locked out, saying they were consulted "to ensure the transition to new rosters was as smooth as possible".
In a letter to the union, a Woolworths manager said if staff did not turn up at their new rostered time from last week, "we will be not paying these team members, and they will be sent home".
One worker at a Melbourne store, who asked not to be named, said he expected to lose $400 to $500 a week from the changes. He said during the pandemic the nightfill staff had worked incredibly hard and were upset by the changes.
"There's a lot of frustration the way it was carried out," he said. He's now refusing to work the new roster.
Mr Cullinan said the workers were "essential worker heroes" who had kept shelves stocked throughout the pandemic. Workers were called into meetings in April this year to be told their rosters would change from June. This was later pushed back to mid-July.
Loading
Mr Cullinan said the workers had a legal right to challenge the changed roster under the workplace agreement and not to be required to work the new hours until the dispute was resolved. He believes Woolworths' threat not to pay people involved in the dispute was unlawful.
"Many workers cannot work those hours," Mr Cullinan said. "Many other workers have had to acquiesce to these coercive threats of Woolworths. Some have had to leave employment with Woolworths."
The workers had won large increases to penalty rates from January 2019 for working overnight after a new workplace agreement was struck with Woolworths.