He said the AstraZeneca vaccine had been "very well received" by Pacific nations, which saw it as critical to saving lives and reopening their borders.
However, he said comments by Queensland Premier Annastacia Palaszczuk and her Chief Health Officer, Dr Jeannette Young, about the risks for under-40s had contributed to vaccine hesitancy in PNG.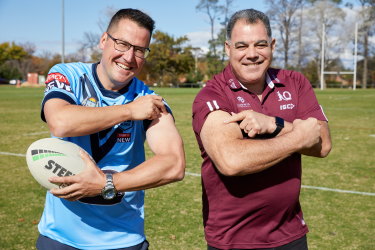 "They do consume a lot of Queensland media so that was certainly noticed and that discussion was a little bit unhelpful but I wouldn't say that was the main driver of hesitancy in PNG, there are bigger factors at play," he said.
Senator Seselja said PNG's vaccine rollout was constrained not by supply but logistics and hesitancy. Australia was working with non-governmental organisations, churches, sporting clubs and the NRL to encourage take-up as part of its "end-to-end" support for vaccine donations.
Loading
Fiji's Prime Minister, Frank Bainimarama, has spoken of his "great appreciation" for the vaccines as well as three ambulances, 250 stretcher beds, 20 oxygen concentrators, personal protective equipment and a 19-person medical team of doctors, nurses and logistics experts donated by Australia and New Zealand.
Tonga's Health Minister, Amelia Afuhaʻamango Tuʻipulotu, has said the life-saving vials were "witness" to Prime Minister Scott Morrison's claim the "Pacific is family".
Jonathan Pryke, who directs the Lowy Institute's Pacific Islands program, said the nation's vaccine diplomacy was "a phenomenal win for Australia".
"It's definitely gone a long way, in Fiji in particular but other countries [as well], to show that when the chips are down, when things are tough, we're here to help," he said.
But he said officials who undermined the take-up of the AstraZeneca vaccine by Australians needed to remember the danger of their words for the small island nations, which had no other vaccine choices.
Loading
"AstraZeneca is rolling out all around the world but the country closest to home has contributed to feeding misinformation about it, which is one of the biggest hurdles that we're going to have to overcome to get this part of the world vaccinated," he said.
AstraZenca Australia & New Zealand president Liz Chatwin said the donations were fulfilling the company's mission.
"This has meant an unwavering global commitment to provide broad and equitable access to our vaccine around the world at no profit during the pandemic," Ms Chatwin said. "At the heart of this commitment is our belief that the devastation of this pandemic will not end until every nation is vaccinated."
The Morning Edition newsletter is our guide to the day's most important and interesting stories, analysis and insights. Sign up here.