The AFL has been forced to postpone three Round 20 matches scheduled to be played in Queensland this weekend due to the snap lockdown in Brisbane and south east Queensland. Click here to ready the full story.
Collingwood caretaker coach Robert Harvey spoke to the media after the Magpies' brilliant victory…
West Coast coach Adam Simpson spoke to the media after their stunning loss to Collingwood…
Collingwood have torn apart West Coast at the MCG, kicking 10 goals to one in the opening half to embarrass the Eagles once again away from home in a performance by the visitors that lacked care and effort. Click here to read the full report.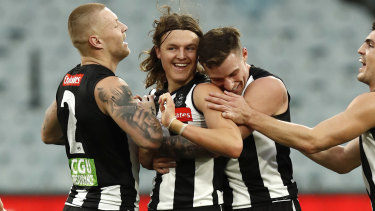 A sorry day at the afternoon for West Coast finally comes to its conclusion, with Collingwood finishing 45 points in front.
The Magpies took a whopping 155 uncontested marks today – the AFL average for the season is 84. West Coast ended up with 93.
Collingwood absolutely blitzed the Eagles in disposals 462-354 and overall marks 167-101 while they also finished on top in tackles 38-33 and contested possessions 106-103.
Amazingly, West Coast finished with more inside 50s 45-42, yet Collingwood had more scoring shots 20-15 and goals 14-6. The forward efficiency from both teams couldn't have been more diametrically opposed.
The Eagles also won the clearances 33-27, but it counted for nought in the end.
Collingwood 4.1, 10.1, 11.4, 14.6 (90)
West Coast 0.4, 1.5, 2.7, 6.9 (45)
GOALS
Collingwood: Elliott 2, Mihocek 2, Bianco 2, Hoskin-Elliott, Sidebottom, Ginnivan, Cameron, Thomas, Grundy, Quaynor, Noble
West Coast: Cripps 2, Yeo, Darling, Kennedy, Sheed
DISPOSALS
Collingwood: Crisp 36, Adams 34, De Goey 34, Sidebottom 32, Maynard 30
West Coast: Gaff 33
INTERCEPTS
Collingwood: Crisp 10, Maynard 9, Quaynor 7, Howe 5
West Coast: McGovern 8, Rotham 6, Cole 5
Noble restores Collingwood's 39-point lead after Sheed got the Eagles to within 33 a few minutes earlier.
With 3:07 left in the contest, the Magpies are heading towards their biggest win of the season, eclipsing their 21-point win over Carlton in Round 2.
The Eagles have now kicked four of the last five goals to get within 39 points of Collingwood with 8:50 left in the game, 5.9.39 to 12.6.78.
Cripps becomes their only multiple goalkicker in the process. But it's too little, too late. Where was this effort from West Coast in the first three quarters?
The Eagles trim the deficit to 46 points early in the fourth quarter, thanks to goals from Darling and Kennedy.
But a six-pointer from Quaynor sandwiched in between those two majors ensures Collingwood still enjoy a comfortable advantage, 12.5.77 to 4.7.31.
The Magpies have kicked nine goals from turnover today.
The heat was well and truly taken out of this game in the first half, which probably explains why the third quarter was so uneventful – and that suits Collingwood just fine.
The Magpies have been tremendous today, especially their midfield and backline, while the Eagles have just brought no effort whatsoever, as they tend to do on the road.
Collingwood continue to dominate the disposals 324-259 and marks 120-76, yet still lead the tackles 30-23 – that sums up West Coast's effort.
Incredibly, the Eagles have had more inside 50s (31-29), yet have only kicked two goals and trail by 51 points. Nineteen is West Coast's lowest three-quarter time score since 2004.
Collingwood 4.1, 10.1, 11.4 (70)
West Coast 0.4, 1.5, 2.7 (19)
GOALS
Collingwood: Elliott 2, Mihocek 2, Hoskin-Elliott, Sidebottom, Ginnivan, Cameron, Thomas, Bianco, Grundy
West Coast: Cripps, Yeo
DISPOSALS
Collingwood: Crisp 28, Sidebottom 28, Adams 26, De Goey 24, Maynard 22
West Coast: Gaff 26
INTERCEPTS
Collingwood: Crisp 9, Maynard 7, Quaynor 5, Howe 4, Madgen 4
West Coast: McGovern 7, Rotham 4