At a tense press conference on Friday, Clarkson was like an awkward dad playing it cool when handing a P-plater the keys to the family car: whatever you do, don't scratch the paint.
Kennett, meanwhile, riffed on the club's family club mantra.
"We recognise that while we are a family club, and this hasn't been the most traditional way of a family to behave, it does happen from time to time," he said.
One of the toughest decisions in football is knowing when to send off a legendary coach. History has proven it doesn't always work out.
The most disastrous was the Demons' call to sensationally sack coach Norm Smith the year after winning the 1964 premiership. Melbourne have not won a flag since.
The situation Essendon faced in 2007 was very different, when the Bombers ousted Kevin Sheedy after 26 years and four premierships. In his last three seasons, Sheeds recorded finishes of 13th, 15th and 12th. However he was given a decent send-off.
Clarkson, too, has not had a great past few years. After making the top four in 2018, Hawthorn has collapsed to the bottom rungs of the ladder and is set for a long rebuild.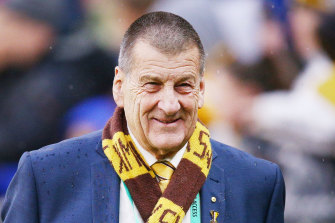 Tony Wilson, author of 1989: The Great Grand Final, said Clarkson deserved to sit among the pantheon of those who have led Hawthorn.
"He's on the Mount Rushmore of Hawthorn coaches," he said. "We'll chisel out the faces of [John] Kennedy, [Allan] Jeans and Clarkson. Maybe add in [David] Parkin too, because you need a fourth."
Wilson says many Hawks fans had come to peace with the handover to Mitchell as the coach-in-waiting, but the treatment of Clarkson had riled supporters.
"The fact that they were unable to manage the personalities or handover with any professionalism, that has upset everyone," he said.
"It was always going to be hard to lose him. We were ready to be hurt, he's up to 16 or 17 years – we knew the end was coming soon.
Loading
"But you want it to come well and you want the club to be professional and reflect his greatness. He's brought incredible loyalty."
One of the quirks of Hawthorn's decision is that their scraps could be another club's treasure.
Clarkson will be the most in-demand coach to hit the market for several years, if he decides to go again.
If Clarkson finds success at another club, Kennett is sure to be hearing about it for the rest of his days.
Keep up to date with the best AFL coverage in the country. Sign up for the Real Footy newsletter.