"[In] a mixed relay you don't know where you're sitting," McKeon said. "I knew the girl on the other side of me (Femke Heemskerk) from the Netherlands was going last in freestyle, so I knew I could kind of go off her rather than focusing on Dressel coming up behind me."
Temple, who watched with great anticipation in the dying stages, added: "It was a very different visual watching such a big kicker come home. It was great to see Emma finishing hard, especially after backing up after that 50 free [semi-final]. It was incredible to see."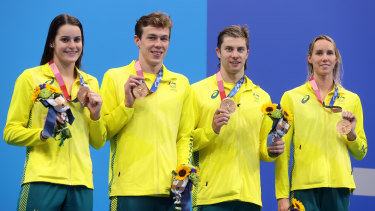 In a highly tactical race, the USA might have missed a trick by being the only team without a male breaststroker. They picked women's Olympic champion Lydia Jacoby instead.
Given the breaststroke is the slowest of the four strokes, coaches believe a greater percentage of time can be pulled back on that leg compared to others.
However, Jacoby had a major issue with her goggles, which slipped down when she dived in, significantly impacting her vision.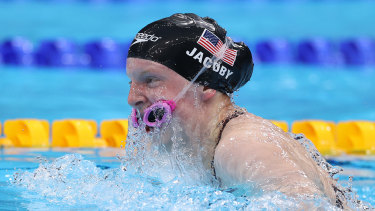 Jacoby recorded a 1:05.09 breaststroke split. Her winning time in the 100m breaststroke final was 1:04.95; a time that would have been lower if it was in a relay, due to quicker reaction times in relays during changeovers than from a gun start.
The USA slipped from equal first when Jacoby jumped in the pool to sixth at the 200m mark.
Italy, equal with the USA at the 100m, retained their lead at the 200m – with a second male swimmer in a row – before finishing fourth.
Loading
"Given the male-female difference, you just swim your own race and touch the wall and hopefully the next person can swim over the top," Temple said.
"To come third and pick up a medal is unreal. There is nothing better than a relay medal for Australia."
Australia opted for McKeon to anchor the relay, rather than swim butterfly. Some thought men's 100m freestyle silver medallist Kyle Chalmers would be Australia's final swimmer.
Never miss a medal or great sporting moment with our Olympic update emailed daily. Sign up for our Sport newsletter here.