The Boomers have clinched victory over Germany: 89-76. It means they have gone through the pool games undefeated.
Australia lead Germany 87-74 with two minutes to play; the Boomers set to continue their unbeaten start to this tournament.
And one more twist in the case of the mixed doubles bronze medal match walkover, that handed a bronze to Ash Barty and John Peers. The Serbian pair of Novak Djokovic and Nina Stojanovic forfeited, moments after Djokovic had lost his bronze medal singles tie to Spain's Pablo Carreno Busta in three sets.
It has now emerged that Djokovic has a shoulder injury, thus the forfeit. So, Novak leaves Tokyo with no medals and just a bung shoulder. Barty leaves with bronze.
Rohan Browning is in the last heat of the night – of course – which is 9.33pm AEST.
Unkindly he has drawn lane one. He has former world champion Yohan Blake in his heat – though Blake has been out of form. There are two sub -10 runners in his heat, Blake is one.
The semi finals take the first three across the line in each heat then the next three fastest times run.
The Boomers were at their best and their worst that quarter leading by 10 following some rapid buckets from Mills but then conceding a 10-run to see Germany back tied.Cue Kay and Landale knocking down threes from outside and Matisse Thybulle and Duop Reath making steals and dunks to regain the lead.
Thybulle's steal and lay-up right on the buzzer has Australia up 66-59 heading into the last.
That bronze medal win to Ash Barty and John Peers, via a walkover, is now confirmed.
Novak Djokovic and Nina Stojanovic have forfeited from the bronze medal match of the mixed doubles. Djokovic had just lost the bronze medal singles match to Pablo Carreno Busta of Spain.
He was set to go straight from that loss to a nearby court and play the Australian pair. But that has not eventuated.
It is unclear if Djokovic – or Stojanovic – are injured. Djokovic did not look injured in his loss to Carreno Busta, not least to the naked eye.
Michael Gleeson is at the Tokyo track now for a very big night.
Hot and steamy and ripe for fast times.
Rohan Browning hits the track in the 100m heats. If he runs to form he makes a semi. Parochial fingers crossed.
Women's 100m final tonight. Huge race.
And Matt Denny is in the hunt for a medal in the final of the men's discus.
On the Olympics information website for the media, the letters "WO" – which stand for 'walkover' – sit next to the fixtured bronze medal match between Ash Barty/John Peers and Novak Djokovic/Nina Stojanovic of Serbia.
Having just lost his bronze medal singles match minutes ago in three sets to Spain's Pable Carreno Busta – and smashing a racquet and throwing another into the crowd in the process – it looks as like Djokovic has forfeited instead of backing up for the mixed doubles bronze match.It means, if confirmed, that Ash Barty and John Peers have won a bronze medal for Australia.
When Brian Goorjian named his first Boomers selection squad Nathan Sobey's name was noticeable omission.
Goorjian wasn't impressed with Sobey and felt he would likely use his spot for a younger play like Josh Giddey who this week was the sixth overall pick in the NBA Draft. Sobey, a country boy from Warrnambool in south-west Victoria, took his omission personally and proceeded to dominate the NBL season with the Brisbane Bullets averaging 21 points a game and was among the best performers in the league forcing his way into camp and then onto the roster.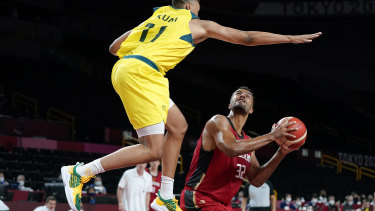 After two modest showings, Sobey has shone in this second term with four crucial points and a steal as the Boomers regained their footing and took a 44-40 lead into half-time.
He made the Boomers faster and more deliberate on offence and that was much needed.Patty Mills has 11 points, Nic Kay has nine points and so does Jock Landale. German shooter Andreas Obst leads his nation with eight points. The Boomers put the foot down defensively that term winning it 26-18.The Boomers trailed 17-10 on rebounds early in the second term but that edge is down to 19-17.