There's a symbolism about one of Japan's most famous athletes, the country's first male golfer to win a major when he stumbled to victory in The Masters in April, contracting COVID-19 a month before the delayed Games, recovering, fighting his way out of a form funk and sneaking around a golf course in near silence, trying to shake the anchor of expectation.
Hideki Matsuyama is the story the Olympics craves, and perhaps more poignant than any Naomi Osaka gold medal would have been.
By the time he finished his third round on Saturday at Kasumigaseki Country Club – a course where he won the Asia-Pacific Amateur over a decade ago to qualify for The Masters – Matsuyama looked like he was carrying the weight of a nation. His light pink shirt was clammy, the stifling humidity reducing a number of the world's coolest men to muck lathers.
He walked in a knee-knocking putt for par on the last, and pumped his fist. Emotion has never come naturally for Matsuyama (-13). But he knew the putt kept him within one shot of American ace Xander Schauffele (-14), who has his own links to the host nation given his mother grew up in Japan. Schauffele had moments earlier stiffed his approach to the last within three feet, and later kicked in the birdie putt.
Like a lot of Japanese, Matsuyama is generally guarded. Cameras have effortlessly trailed his every move this week, because no-one else can. And maybe that's benefited Matsuyama, 29, because the only pressure he's feeling on the course is coming from himself, and not an expectant gallery traipsing alongside him.
After a timid two-under 69 to start the week, Matsuyama admitted he could feel the expectation, even more so because tennis heroine Osaka was bundled out of the women's singles before anyone expected her to be, while the lingering effects of the virus were still fatiguing him.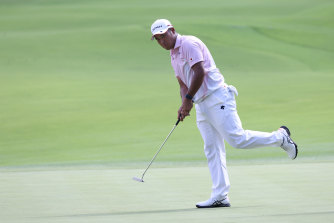 Osaka might have lit the flame, but Matsuyama is the one keeping it burning.
There's been nothing normal about golf's second coming in the Games. All week the players have been subject to an awkward introduction on the first tee before each round. They stand socially distanced apart, some like teapots with hands on hips, and acknowledge a handful of volunteers in Olympics shirts before walking into a crowd-less course.