A Sydney private school has told parents it will require every student to take a rapid antigen COVID-19 test on its grounds immediately before each HSC trial exam, and has taken matters into its own hands by securing its own supply of tests.
Since the NSW government revealed the tests – known as a RAT – would be part of its return-to-school strategy for year 12 last week, there has been widespread confusion about how the process will work, given the Therapeutic Goods Administration will not allow them to be taken at home and requires them to be carried out by a medical professional.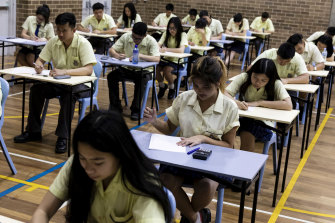 Private companies that provide rapid antigen tests have been contacting independent schools, saying they can supply tests, at $6 each, trained nurses, at $115 an hour (or $165 on the weekend), and an administration assistant to run everything at $75 an hour. One nurse can carry out 10 tests in an hour.
But public school principals are still waiting to hear from the NSW Department of Education about how they can administer tests for up to 400 year 12 students at one site, how often they must do it or who will oversee them. There is also no guidance on whether they will be compulsory.
Michael Lenihan is sitting in a cafe overlooking Bali's Sanur Beach, halfway through a business meeting with a colleague.
"We're having lunch and there is beautiful surf at the front and people are walking along the beach and enjoying the sun," he says.
"Everybody's moving around but they're being respectful with their masks and their social distancing."
The owner of a foreign investment company on the island returned to his home town of Melbourne last year when alarm bells rang as the first wave of the virus struck Indonesia.
But after seven months in Victoria, the majority in lockdown, he flew back last November.
Now, while some expats are appealing for help to get to Australia amid Indonesia's worst outbreak, Lenihan, who fell ill with COVID-19 in May, is among the large contingent of Australians remaining on Bali who have no desire to leave.
National cabinet has agreed to a review of the COVID-19 protocols for truck drivers, as the Victorian government considers new options to ensure freight workers do not reintroduce the virus into the state.
The Prime Minister and state premiers last week sanctioned federal and state transport ministers to determine improvements to the permit and testing requirements for cross-border truck drivers that vary for each state.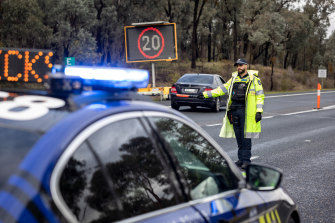 The ministers will consider a proposal from state transport associations to allow drivers to use rapid antigen test home kits and a national QR code check-in system that would allow truckies to scan into states instead of applying for permits.
The review comes after new measures were announced on Monday preventing NSW residents within the border bubble from entering Victoria other than for essential reasons like care-giving and exercise.
War veteran Ben Roberts-Smith's defamation trial against The Age and The Sydney Morning Herald will take a three-month break owing to COVID-19 restrictions in Sydney, and is not expected to reach its conclusion until next year.
On Monday, Justice Anthony Besanko made an order adjourning the trial until November 1 because the court cannot safely sit in Sydney. Lawyers for the Commonwealth, which is represented at the trial for national security reasons, had said there were significant obstacles to moving the trial interstate or conducting it via video link.
"Stay-at-home orders [in Greater Sydney] are in place until the end of August," Justice Besanko said. "There is at least a reasonable possibility that they will be extended for a period thereafter."
He had resumed the trial last week for the limited purpose of hearing from three Afghan witnesses who gave evidence via video link from Kabul. The newspapers had told the court the evidence of the witnesses was urgent in light of the risk of a Taliban-led terrorist attack in the city.
Federal Labor leader Anthony Albanese has vowed to overhaul national cabinet to offer a more "cohesive" approach to the pandemic if he wins power, accusing Prime Minister Scott Morrison of showing favouritism between states when the country needed unity.
Mr Albanese said Labor would go to the next election with stronger spending on public health to fight the pandemic as well as an economic plan for national reconstruction, as he rejected claims he stood for nothing after dropping ambitious tax policies last week.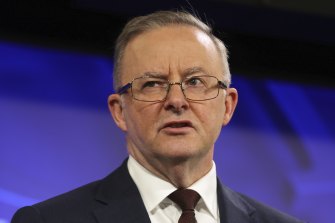 In an interview ahead of Parliament resuming tomorrow, his central criticisms of Mr Morrison were that the Prime Minister had undermined the unity of national cabinet, failed to develop more purpose-built quarantine facilities and missed targets to vaccinate millions of Australians earlier in the year.
"All of the targets that they've set haven't been met," Mr Albanese said.
"One of the things that characterises Scott Morrison is the failure to lead – whether it was bushfires, the need for wage subsidies or the need to do deals over vaccines, he's always too late and always does too little."
When Greater Sydney went into a two-week lockdown on June 26, Rosa Lynes-Ross and her fiance Joshua Bowden were optimistic their wedding would go ahead as planned on July 16, and didn't think they needed to rush to tie the knot.
But with the lockdown now extended to at least August 28, the couple is beginning to regret that they didn't fast-track their nuptials to the weekend the restriction was announced. If they had, they could have started their lives together by now.
Instead, as devoted Christians who for religious reasons are not prepared to move in together until they are married, the lockdown has left them in limbo.
Under the public health order, marriage – as in the legal ceremony, which requires a minimum of five people to attend – is banned.
It's a significant change from last year's lockdown rules in NSW and other states, when legal marriages could still go ahead with a tight limit on attendee numbers.
The couple's minister, Roger Fitzhardinge from Fairy Meadow Anglican Church, said he has been able to hold funerals with 10 people in the last two weeks, but weddings with even fewer people have been deemed unworthy of exemption by the government – a decision he branded "absolutely illogical, ludicrous and careless".
Reverend Fitzhardinge said holding a wedding ceremony with the legal minimum five people present would be "fewer people than I see at Aldi every day".
Queensland health authorities have identified a number of exposure sites outside the populated and largely locked-down south-east corner, after a person infected with COVID-19 travelled to Rockhampton, about 600 kilometres north.
The woman, a contractor on the state government's Rookwood Weir project whose infection was among the nine announced in relation to the state's latest outbreak on Sunday, flew to the central Queensland city on Wednesday and remained there for two days.
Toilets within the Rockhampton airport, the weir work site and workers camp to the city's west, a service station along the route in between and both her flights – QF2362 from Brisbane and the returning QF2365 on Friday – have now been listed as close contact sites.
Anyone who attended the sites is required to immediately get tested, fill out the online Queensland Health contact tracing form and quarantine for 14 days regardless of the result.
The broader airport has also been listed as a low-risk exposure site between 9.38am and 9.55am on Wednesday and 5.25pm and 6.35pm on Friday, with anyone else who attended the site urged to get tested and monitor for symptoms.
Sunwater, which is running the weir project, said anyone at the camp had been tested across the weekend and workers on-site were quarantining in their individual rooms for 14 days. Others who have left the site have been contacted by health authorities.
The number of sites linked to the state's recent Brisbane high school outbreak which sparked the now-extended eight-day lockdown from Saturday, and a number of other recent but unrelated community cases, has stretched to almost 170. See them all here.
NSW Health has added exposure sites for several bus routes and shops in Sydney.
Anyone who travelled on the following bus routes at the listed times is a close contact (tier 1)
and must get tested and isolate for 14 days.
Bus 705 – From Pendle Hill Station to Mandoon Road at Girraween – Thursday 22 July, 6.20pm to 6.25pm
Bus 601 – From Parramatta Station to Victoria Ave before Gladstone Road – Saturday 24 July, 9.26am to 9.47am
Bus 601 – From Victoria Ave after Carrington Road to Parramatta Station – Saturday 24 July, 8.47pm to 9.07pm
Anyone who attended the following venues at the listed times is a casual contact (tier 2) and should get tested and isolate until getting a negative result. We've sorted the list alphabetically by suburb:
Ashfield – All Seasons Supermarket – Wednesday 28 July, 6.05pm to 6.40pm
Ashfield – First Choice Liquor – Wednesday 28 July, 3.15pm to 3.30pm
Baulkham Hills – Woolworths – Wednesday 28 July, 4.15pm to 4.35pm
Castle Hill – Tortuga Ventures – Saturday 24 July, 7am to 6pm
Castle Hill – Aldi – Wednesday 28 July, 5.45pm to 6.05pm
Castle Hill – Coles – Wednesday 28 July, 6.05pm to 6.15pm
Castle Hill – McDonalds – Wednesday 28 July, 6.15pm to 6.25pm
Kogarah – Australia Post Office – Thursday 22 July, 1.50pm to 2.10pm
Ryde – Akira Sushi – Sunday 25 July, 12.35pm to 12.40pm
Ryde – New Yen Yen Asian Supermarket – Sunday 25 July, 12.35pm to 12.40pm
Ryde – Woolworths – Sunday 25 July, 12.40pm to 1.15pm
Strathfield – Woolworths – Sunday 25 July, 6.05pm to 6.30pm; Monday 26 July, 11.50am to 12.15pm; Tuesday 27 July, 1.55pm to 2.20pm
Thornleigh – Woolworths – Sunday 18 July, 11.20am to 12.15pm
Warriewood – McDonalds – Wednesday 28 July, 11.45am to 1pm
See the full list here.
Victorian firefighters have taken three days to bring under control, but not yet extinguish, a Tesla Megapack fire at a battery farm near Geelong, known as the Victorian Big Battery.
"The fire has subsided significantly but is not yet under control," the Country Fire Authority said this morning.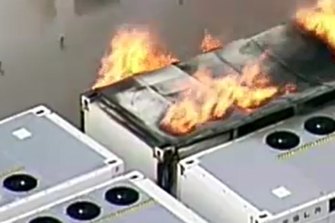 "Crews have remained on scene overnight and continue thermal temperature checks to see how much heat remains internally behind the doors."
The battery has only recently been turned on for the first time and has been charging. The fire started on Friday morning and has had about 150 firefighters from the CFA and Fire Rescue Victoria attending to the incident over the weekend.
Read more in our business live blog (2.21pm post).
Minister Hunt flagged the possibility of rapid antigen testing being expanded, subject to trials in place.
"We're very supportive of that," Mr Hunt said in response to a question about surveillance testing for aged care workers.
The expansion could eventually move to "unsupervised" testing, where people undertake tests to self-diagnose.
"That is not off the table at all … we want to make sure every possible case is detected," he said.
Mr Hunt said 1.18 million doses of COVID vaccines were administered nationally in the past week, for a total of almost 12.4 million in total.
"Significantly, that includes now almost four million who are fully vaccinated," he said. "We're now distributing at a faster rate than we had been expecting to in July."
The vaccine utilisation rate for the past week was 90 per cent nationally, comprising 84 per cent from GPs and 99 per cent through the states and territories.
Since Queensland has been declared a Commonwealth-designated hotspot, they will receive medical supplies from the national stockpile. This includes 1.45 million masks and 175,000 gloves, gowns and goggles.