A Brisbane Girls Grammar student has tested positive to COVID-19.
The news comes after the school said on Saturday they were advised a parent had tested positive to the virus, and they had previously attended the school on Friday from 5.25pm to 8.30pm.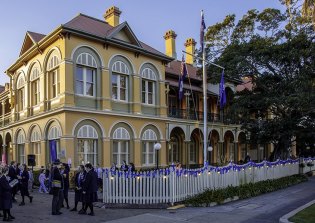 A letter from Queensland Health explained that anyone who had been at the school between 8am and 6pm Friday, when the student was present, was considered a close contact and must get tested and quarantine with their household.
The venues visited at the school on Friday include the main entrance area from 6pm to 6.45pm, at the queue for food vans, the String Room on Level 1 of the Creative Learning Centre from 6.45pm to 7.05pm, and the four floors of scientific classrooms at the New Science Learning Building from 7.15pm to 7.45pm.
"If you attended Open Day from 6pm to 8.30pm, but did not visit the areas listed above at the specified times, you are a casual contact," the school posted.
"The school will now be cleaned and we will then advise staff, students and families when they may return to the campus to collect personal belongings.
"This will not, however, be until Wednesday, at the earliest.
"Our teachers are prepared to provide education remotely to our students for as long as required."
The state recorded 13 community cases on Monday, with several schools impacted in the latest cluster.