The other option being considered by NZR is playing the second Test on Sunday, August 15, given Rugby Australia have also indicated they're prepared to push the Perth Test back to August 28.
Playing the third and final Test on the 28th is dependent on the AFL, who have first rights to Optus Stadium that weekend. Though it is currently not booked, given that date falls in the bye between the end of the regular season and the finals, the AFL have the ability to claim the venue in the event of further COVID scheduling chaos.
Fans who have already purchased tickets to the Test on the 21st in Perth will have them transferred to the 28th. If they can't attend the match on the 28th, they will receive a refund.
Considering many of the scheduling issues have arisen due to New Zealand's inflexible border restrictions, playing two games at Eden Park and potentially moving the Perth Test are significant concessions from Rugby Australia.
But RA's olive branch will boost their hand when it comes to negotiations to host the entire Rugby Championship in Australia later this year, and potentially even be a factor in talks about the format of Super Rugby next year.
While playing two Tests at Eden Park in seven days sounds like a death knell for Australia's Bledisloe Cup hopes, Reece Hodge told reporters on Monday of the Wallabies' desire to snap the 35-year losing streak at the All Blacks' favourite stadium.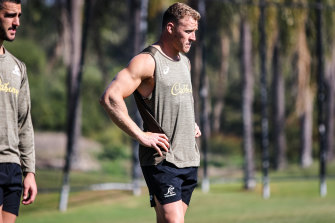 "There's no shying away from the fact that it's been a long time since we had success there," Hodge said. "We want to be the team, the 2021 squad, that changes it and breaks that hoodoo."
Hodge wants Australia's sports mad children to watch the Wallabies on Saturday like he watched the golden era in the early 2000s.
Loading
"I think I would have been about eight [when the Wallabies last won the Bledisloe Cup] and I've spoken a bit in the past about how lucky Al and myself were, being born in '94, to grow up watching the golden era in Australian rugby," Hodge said.
"There was a lot of success in the late 90s and early 2000s and ultimately, that's what inspired me to want to pull on the gold jersey growing up.
"It's not lost on us, how unique an opportunity it is for us to really inspire the next generation coming through now, who, watching back in Australia on Saturday night want to see an Australian win.
"Hopefully, we can be the team that inspires the next generation of athletes coming through that want to be Wallabies and successful Wallabies."