Harvey clearly has the players' support and they have bought into what Lyon described as a "breathtaking" attacking manner, which has the Magpies leading a series of statistical markers which are at polar opposites to the stodgy style they were criticised for under Buckley.
Since round 13, the Pies lead the league in mark-and-play-on percentage (from 13th to first), disposals, uncontested marks, uncontested possession rate, and marks inside 50. They sliced their way through the woeful Eagles on Saturday, booting the opening eight goals to all but have the result settled by half-time.
Harvey has been delighted with a more consistent offence and defence and noted his players were having "fun".
Added Rendell: "I suggest that the players are so happy that they are now allowed to actually play proper football that their game has improved immeasurably. I commend Harvs for letting that happen but that direction might have come from above."
There is an argument that the caretaker coach, particularly if he feels he has little chance of winning the top role, can swing without any major consequences, and can even profit from just being a breath of fresh air. And club bosses have to be careful to not be seduced by a short body of work. That's a claim that was levelled at North Melbourne when appointing Rhyce Shaw, and Carlton with David Teague.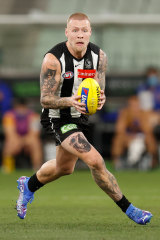 However, Harvey has been in the coaching system for a long time, whether that be with the Blues, who maintain he did a fine job, Saints (where he was also a caretaker) and, since 2011, the Magpies. A former AFL Coaches Association assistant coach of the year, he would surely understand how best to handle the Magpies' board, executive, and a voracious media, should he win the top post.
To his credit, Harvey has also extracted the best from Jordan De Goey in the midfield – and that can't be underestimated. De Goey is a match-winner but can too often frustrate – which wasn't necessarily his fault when, used as a forward, the supply inside attacking 50 earlier this year was terrible.
He has yearned for a consistent run in the midfield and the results have been telling, averaging more than 30 disposals since round 13 while being a key weapon in score involvements. Harvey, the dual Brownlow medallist who was a gut-running machine, wants him to train as a midfielder through the pre-season.
Of course, the spectre of Clarkson looms large at Collingwood, as it also does over Carlton and the Gold Coast Suns.
"In the end, it is for others to work on. I have got my job there just trying to get through this little period the best I can. Whatever happens, will happen," Harvey said the four-time premiership coach Clarkson on Saturday.
In the meantime, the players will adhere to Harvey's exciting game plan.
"We have got three more games to execute what Robert is trying to put in play for us and the other coaches," veteran Jeremy Howe said.
The Magpies have Hawthorn, Brisbane, and Essendon to come. Should they win one, even two, of those, the question has to be asked: "Why not Banger?"