Professor Sutton praised Victorians for their "extraordinary achievement" in suppressing a Delta outbreak, particularly the more than 40,000 people who have gone into isolation as either primary or secondary close contacts. Compliance teams are continuing to visit Victorians in isolation and finding high rates of people adhering to the rules.
Loading
"Our household engagement teams visited 525 people yesterday; 501 of those were close contacts, and they continue to see very high compliance with those visits," he said on Tuesday.
"Over 90 per cent of primary close contacts have now been cleared in this outbreak. A huge thanks to everyone who is doing their quarantine at home, that's why we're seeing every single day that our new cases are in primary close contacts who've had their entire infectious period out of the community.
"You couldn't praise Victorians more for what's been achieved. To knock back a Kappa-Delta outbreak, another Delta outbreak, various other Delta incursions, has been an extraordinary achievement."
The state has broken its daily record for the number of venue check-ins, with people using the Service Victoria app 6.1 million times on Saturday, and 11 million times over the weekend.
"It's really becoming a part of our habits, as it should be," Professor Sutton said.
"It's played a very significant role in our ability to track down primary close contacts, people who've gone to exposure sites, and for us to be able to contact them within a very short period of time so that they can quarantine appropriately."
Modelling behing four-phase strategy released
Vaccinating younger people is key to stopping the spread of the coronavirus around Australia with new modelling showing it would be the most effective strategy to slow down outbreaks.
Prime Minister Scott Morrison on Tuesday revealed the Doherty Institute's modelling that national cabinet relied on to set Australia's new pathway out of the COVID-19 pandemic, which has left multiple states in lockdown even 18 months after it began.
Professor Jodie McVernon from the Doherty Institute says the modelling shows that immunising younger people who tend to transmit the virus more – rather than older Australians who come into contact with fewer people – is a better strategy for the country to adopt from now on.
"So this is showing why at this point a strategic shift to targeting transmission and stopping these people getting exposed in the first place, can substantially improve outcomes," Professor McVernon said.
Her charts predict much lower rates of symptomatic infections, ward admissions, ICU admissions and deaths if Australia adopts an "all adults" vaccination strategy compared to an "oldest first" strategy.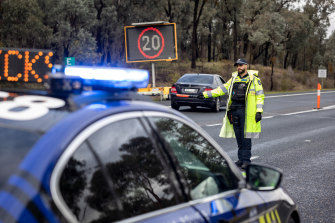 New protocols for truck drivers
The Prime Minister and state premiers last week sanctioned federal and state transport ministers to determine improvements to the permit and testing requirements for cross-border truck drivers that vary for each state.
The ministers will consider a proposal from state transport associations to allow drivers to use rapid antigen test kits at home and a national QR code check-in system that would allow truckies to scan into states instead of applying for permits.
The review comes after new measures were announced on Monday preventing NSW residents within the border bubble from entering Victoria other than for essential reasons such as care-giving and exercise.
Health Minister Martin Foley said under the current border bubble rules, people could theoretically have travelled from a NSW border town to Melbourne or Lorne. "I would have thought that Victorians would have been a little bit surprised [by that]," he said.
Mr Foley said the government might increase the level of testing in border areas to search for traces of COVID-19 that might have seeped in from NSW, and said testing stations might be set up along trucking routes.
The Age reported last week that thousands of truck drivers were probably disobeying the state's freight worker testing requirements.
The Victorian Transport Association is pushing for the less onerous, but less accurate, rapid tests for workers and a QR check-in system – in which drivers would scan QR codes near highways – in an attempt to increase compliance with border rules.
Loading
The border bubble changes come after Victoria recorded two new locally acquired cases on Sunday, NSW recorded 207 new cases and Queensland health authorities announced the state's lockdown would continue until at least Sunday.
From Wednesday, travellers in the bubble will only be able to cross the Murray River without a permit to access necessary goods and services, for care reasons, work and education, vaccination and exercise.
Mr Foley said the changes applied for both NSW and Victorian residents.
"The outbreak in NSW continues to grow, and with projections and modelling suggesting that the position in NSW is likely to get worse before it gets better, it's prudent that Victoria takes measures to make sure that the border bubble operates as safely as we possibly can," he said.
"We really don't make these changes lightly."
Fines for those who cross the border into Victoria for unnecessary reasons are up to $5452.
With Nick Bonyhady, Ashleigh McMillan
Stay across the most crucial developments related to the pandemic with the Coronavirus Update. Sign up to receive the weekly newsletter.