Australian beach volleyball team Taliqua Clancy and Mariafe Artacho del Solar shocked the world on Tuesday, and now say they can "beat absolutely anybody in the world" before Thursday's Olympic semi-final.
The Australian pair beat Canadian world champions Sarah Pavan and Melissa Humana-Paredes two sets to one in their quarter-final at Shiokaze Park on Tuesday. Sarah Pavan and Melissa Humana-Paredes won gold at the 2019 World championships and hadn't conceded a single set at the Olympics before they played the Brisbane-based No.5 seeds.
It's been over two decades since Natalie Cook and Kerri Pottharst famously won gold in the beach volleyball final at the Sydney Olympics.
After their unexpected victory against the world's best, Clancy and Artacho Del Solar hope to emulate theat performance, starting with Latvia's Anastasija Kravcenoka and Tina Graudina in their semi-final (11am AEST) on Thursday.
Artacho del Solar was born in Peru and migrated to Australia at the age of 11 while Clancy is a Wulli Wulli and Goreng Goreng woman from Kingaroy in Queensland.
The pair may come from different backgrounds but as children they shared the same idol, their now mentor and Sydney Olympic gold medallist Natalie Cook.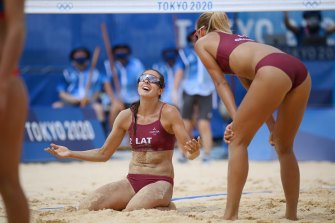 Artacho del Solar's path to the sport can be traced back to an inspirational postcard signed by Cook and Pottharst that was sent to her family in Peru before they emigrated to Australia.
Clancy discovered she was a gifted indoor volleyball player when she was in high school so her mother worked multiple odd jobs like folding junk mail and driving a forklift to move them to Brisbane so Clancy could attend the Queensland Academy of Sport, where she met Cook.