"It is a connection to protest that puts you in the firing line. And these latest proposals single charities out for double punishment in a way that isn't applied to businesses or political parties," she said.
"It's been a really tough couple of years for Australian charities, with bushfires, [Black Lives Matter], the pandemic. The Morrison government should be supporting charities and not threatening them with rules that could shut them down for speaking out.
"It is vital that charities be able to speak on behalf of communities they support and represent. It is not enough to say that charities should be handing out blankets to homeless people. They should also be asking why those people are experiencing homelessness."
Several other Aboriginal-led charities also expressed concern.
Paul Wright, national director for ANTaR – an independent organisation that advocates for justice and rights for Aboriginal and Torres Strait Islanders – said the changes "undermined democracy".
"In a healthy democracy governments must be subject to robust scrutiny and the advocacy of the citizens and communities they are elected to serve," he said.
National Aboriginal and Torres Strait Islander Legal Service chair Priscilla Atkins expressed concern that the changes could stifle important advocacy work over the incarceration of Indigenous people.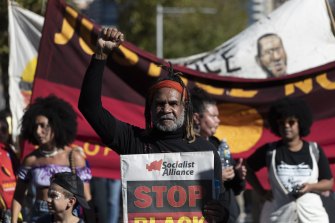 "Our legal services across the country and the thousands of people they represent and advocate for must not be silenced," she said. "It is our duty to advocate for the changes that will create a fairer, freer and more equitable Australia."
Change The Record – a First Nations-led non-profit organisation advocating to end family violence and over-incarceration of Aboriginal and Torres Strait Islanders – urged Parliament to block the proposed measures.
Loading
Co-chair Cheryl Axleby described them as "flying in the face of Closing the Gap lip-service and promises of more control and autonomy" to First Nations community organisations.
Australian Charities and Not-for-profits Commission commissioner Gary Johns told Senate estimates in June that charities breaking the law was not a widespread problem. Only two out of 59,000 had been deregistered for breaching the existing regulation during his time as commissioner.
Deputy Treasurer Michael Sukkar said in a statement the regulations set a minimum benchmark by which all registered charities should govern themselves.
"The changes will empower the … commissioner to investigate registered charities engaging in or actively promoting theft, vandalism, trespass or assault and threatening behaviour, and to take appropriate enforcement action if warranted."
The Morning Edition newsletter is our guide to the day's most important and interesting stories, analysis and insights. Sign up here.