Loading
Warholm, who wears a Puma brand of spikes designed in collaboration with Mercedes Benz and containing a carbon fibre plate, slammed as "bullshit" the Nike spikes which he said gave too much of an advantage to runners.
His rival Benjamin, who won silver, wears the Nike shoes.
McLaughlin and third-placed Bol both wore New Balance spikes while silver medallist Muhammad, who beat McLaughlin for the world championship in Doha in 2019, wears Nikes.
All of the companies have their own variation on a new technology spike with a carbon plate in the sole. The Nikes have an additional responsive foam under the carbon, which is what upset Warholm.
"He had those things in his shoes, which I hate," Warholm said of Benjamin's shoes.
"I don't see why you should put anything beneath a sprinting shoe," Warholm said. "In middle distance I can understand it because of the cushioning. If you want cushioning, you can put a mattress there. But if you put a trampoline I think it's bullshit, and I think it takes credibility away from our sport."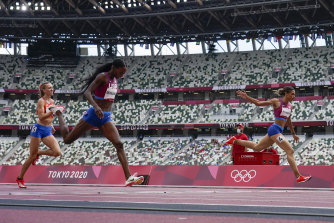 So-called "super shoes" have not been banned but World Athletics has rules to ensure midsoles are not thicker than 40 millimetres for road races and do not have more than one carbon-fibre plate inside them.
Former Australian marathon runners Rob De Castella and Steve Moneghetti have said that because most Olympic runners have access to the shoes, the best athletes still win, but De Castella predicted that the technology would contribute to fast times, making it more difficult to compare eras.
Loading
Usain Bolt, the greatest sprinter of all time, has said it is "laughable" that runners are allowed to wear shoes that give "athletes an advantage to run even faster".
Warholm said the fast times in Tokyo were not attributable entirely to high-tech shoes because the speed of the Tokyo track was "crazy".
"It's a great track. It actually gave me London 2017 [world championship] vibes – it's the place where I got my first gold medal and it's a very fast track. But it's not just the track, it was the guys as well, pushing each other on," he said.
Warholm said his Puma shoes were very different to the Nike spike.
Loading
Benjamin, in Nikes, said the times were more about the athletes and the track.
"It's a very good track. It's soft, it has a lot of give, it's a phenomenal track. People say it's the track, the shoes, and the conditions were really good," Benjamin said.
"But I could wear different shoes and still run fast. No one will do what we just did, I don't care who you are. Could be Kevin Young, Edwin Moses, respect to those guys, but they cannot run what we just ran just now. It's a really fast track, it felt good, the conditions were really good."
With Reuters