For online law court gaffes, the one that happened on Tuesday in Melbourne Supreme Court was right up there with the worst of them and it has well-known knockabout lawyer Bernie "the attorney" Balmer fuming.
Defence lawyer Richard Edney was deep in the cross-examination of a witness in a plea hearing when someone, watching over online court, unmuted themselves and called the barrister a "f—wit".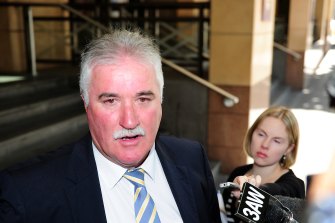 "What was that? I heard an expletive, your honour. I don't know who it was from," Mr Edney said.
Mr Edney called for the "male voice" to unmask themselves.
"Look, I don't know – I'm not sure much is gained by that, Mr Edney, and don't take it personally," the presiding judge, Justice Andrew Tinney, replied.
"Obviously whoever said it didn't intend it for your ears."
Mr Edney persisted, saying there were only a small number of men watching online that it could have come from, and it wasn't the prosecutor.
"Your honour, I would appreciate an apology from the person who said it before I continue. It's totally unacceptable. I'm doing my job."
The offender didn't own up, and Justice Tinney didn't take it further.