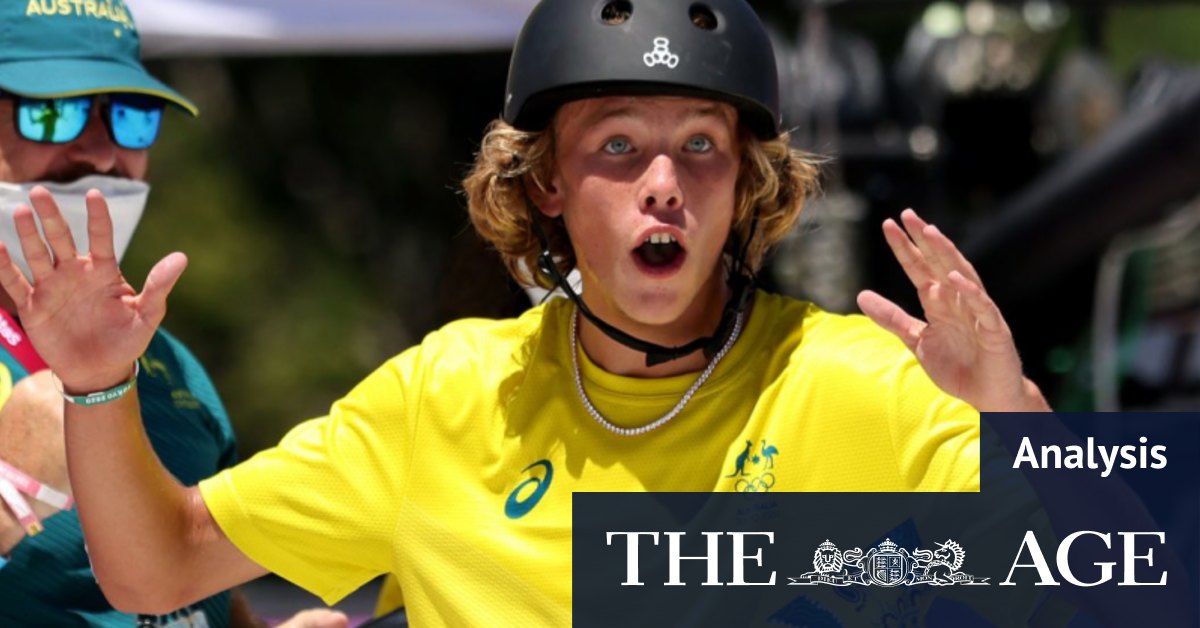 To those watching top-level skateboarding for the first time, you should expect to see plenty more of this kid with a sun-kissed face and, remarkably for a skater boy, all his own teeth.
Palmer was born in California and grew up on the Gold Coast before returning to the US to pursue his sport. He learnt to skate from his father Chris, a touring surfer, and was soon popping tricks his dad could only dream of trying.
Loading
His favourite trick is a mind-boggling manoeuvre known as a kickflip body varial 540; a blur of spinning board and flying feet. He'd already won gold when, just for kicks, he pulled one out in his final run in Tokyo.
In addition to English he speaks fluent Californese and, without taking a poll of all athletes in Tokyo, might just have the best lifestyle of anyone in the Olympic village. In an interview with Whistle, a popular YouTube channel, Palmer recently explained what a usual day in Carlsbad involves.
"It is nice to go surfing in the morning when you wake up. Then when I get back I do school for like an hour, an hour and a half. And after that I pretty much just skate into the night.
Loading
"I can't even tell you how much I love being able to skate every day, dude. It is like sickly. Being able to skate every day is insane dude. It is crazy you can do that."
It is crazy; kinda like Australia's two weeks in Tokyo.
The only other Games where Australia won 17 gold medals was Athens. That was four years after Sydney, when our team was powered by Ian Thorpe and Anna Meares, and James Tomkins was still rowing his boat. The men's hockey team also won gold at those Games; a feat the Kookaburras were trying to repeat on Thursday night.
Chef de mission Ian Chesterman when asked about the milestone said he was happy for the athletes but didn't want to say too much. "The real satisfaction will come when we can sit back and think on all these performances and what has been achieved."
Loading
The last thing this Australian team needs is an old dude to kill the vibe. Besides, Chesterman and most of Australia's Olympians will have plenty of time for that when they return to Australia to two weeks of hard quarantine.
There are no such worries for Palmer, who will fly home to a California beach and dazzling bright future.
Never miss a medal or great sporting moment with our Olympic update emailed daily. Sign up for our Sport newsletter here.