"So for us right now it's going to a place where the country's never been before, a proud tradition of basketball but we've never medalled, ever medalled, and for us right now it's wipe it, get up in the morning wash your face and get ready for this next one," Goorjian said.
Loading
"It's as important as anything, all of us as players, coaches, staff, have ever been involved in. When I walked out of that locker room, the message is loud and clear; back straight, head back, walk out of here proud, proud of what you do, proud of who you are.
"We've got something right now in front of us. It has never happened in this country and let's get excited about that. And I feel like my team's feeling real good about themselves, proud of what they've put on display to this point and we're very honoured and we're very excited to be involved in a game coming ahead that could be a country's first."
Much will rest on the old heads of the Boomers to ensure the mood is right for the bronze play-off, although newer faces like Landale have a role to play as well. The newly signed San Antonio Spur doesn't carry any of the baggage from Rio and said he would make sure the group completed a full reset.
"Be men about it. Move on. Don't let there be a hangover. Guys are going to be disappointed because we came here to win gold but at the end of the day, we came here to make history for our country and win a bronze medal. It would be selfish for us to carry this over into the next game," Landale said.
"There will be some guys hurting right now but it's our job to pick them up and remind them we have a game in 48 hours time. We can f–king make history. That's where our heads are at."
Goorjian may need to tweak his rotations regardless of who they face next. After just three points on 1-5 shooting against Argentina, Dellavedova couldn't contribute on the scoreboard at all against the USA.
And Mills had his struggles offensively as well, missing some layups he would normally make blindfolded and finishing with 15 points (5/14, eight assists) in front of his great mentor and USA coach Gregg Popovich, who couldn't help but feel for the Brooklyn-bound guard with whom he has become so close.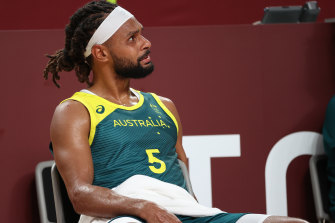 "I'm thrilled with the victory, obviously, but you know when I looked him in the eyes, I felt badly because they do have great camaraderie and great history and culture as I said, and they wanted it just as badly as any of us, so that was a little bit sad," Popovich said. "But that's what we all do, we all try to win."
The bronze medal match will be played at the Saitama Super Arena at 9pm (AEST) on Saturday night.
Never miss a medal or great sporting moment with our Olympic update emailed daily. Sign up for our Sport newsletter here.