"In other words, a normal road vehicle could turn right from Lindum Road on the correct side of the turn line and easily pass to the right of the lowered boom barrier (as occurred in the case of this accident)," the report read.
On the southern side, there was no gap between the boom barrier and the centre of the roadway, for cars approaching from Sibley Road.
Queensland Rail is the manager for the train line and the rail infrastructure at the crossing, while the Brisbane council is responsible for the roads surrounding the Kianawah Road level crossing.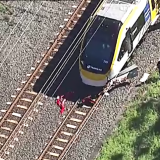 There have been several reported incidents at the level crossing, where cars have passed through the crossing after the warning lights had been activated, while there were also five instances where train drivers had to apply emergency braking due to a car passing through with the boom barriers down.
Chief executive Nick Easy said Queensland Rail undertook a post-incident level-crossing inspection in March this year, and the assessment confirmed that active protection was in place.
"Boom arms have been limited to 10 metres in length due to material and reliability considerations," he said.
"Queensland Rail has commenced engineering activities to source and trial the use of a longer boom arm at Kianawah Road.
"Queensland Rail is progressing this trial as a priority, with timeframes subject to manufacture supply. An initial review of Queensland Rail's level crossing assets at other sites following the incident has not identified any similar issues."
Transport Minister Mark Bailey said $165 million in joint funding was locked in for upgrades and planning had been underway since 2019.
He said a long term plan to separate the road and rail line was being investigated.
Loading
"Our upgrade plan, which is currently being developed, includes an improved pedestrian overpass with lift access linking platforms, as well as upgrades to the park 'n' ride facility," he said.
"Brisbane City Council will start work on safety upgrades for the level crossing intersection on Kianawah Road soon, including reconfiguring the intersection and installing traffic lights."
Brisbane Civic Cabinet Infrastructure chair David McLachlan said improvements were under way at the site, which included the installation of new and extended median islands, enhanced line marking and road resurfacing through the level crossing.
"So, we're going to fast-track this first stage of safety enhancement works to make this level crossing safer while we await the results of the state government's Lindum Station Precinct Study into a possible overpass or underpass," he said.
Loading
"The prospect of more trains services on the network more frequently in future means longer delays for motorists at intersections where boom gates still exist along with increased risks of incidents."
The ATSB's investigation will further assess the recorded data and sequence of events leading up to the crash, along with the level crossing's design and its similarity to other crossings, ATSB's Acting Chief Commissioner Colin McNamara said.