The Australian government is being urged to declare any use of spyware in its intelligence gathering, and to refuse to use surveillance products made by an Israeli security company, as fallout continues from an investigation that appeared to show widespread abuse of powerful cyber tools.
Reports from a global consortium of media organisations and human rights companies last month centred around software called Pegasus, produced by Israel's NSO Group, which allows the user full remote access to a target's smartphone. NSO's technology is so advanced it even made successful and undetected attacks against the latest up-to-date iPhones, the reports said.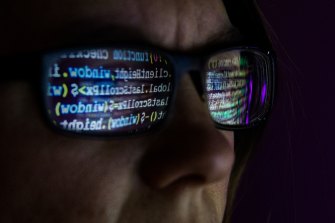 And while NSO claims it sells its software only to responsible governments and only for the purposes of law enforcement and anti-terrorism, a list of 50,000 phone numbers — alleged to be targets of Pegasus — indicated activists, politicians and journalists were victims of surveillance.
Amnesty International, which was involved in the research, said the unregulated state of surveillance software constituted a human rights crisis. And while Australia was not one of the many countries implicated as having used Pegasus, Amnesty Australia campaigns manager Tim O'Connor said spyware posed a very real danger to those holding authorities to account.
"Amnesty is seeking assurances from the Australian government that it hasn't and won't threaten civil liberties and human rights through spyware such as Pegasus, and will refuse to use NSO software," he said, adding that the organisation also wanted Australia to disclose any previous, current, or future contracts with private surveillance companies.
NSO, which works closely with the Israeli government in the export of its software, could no longer hide behind the claim that its spyware was only used to fight crime, Mr O'Connor said, as there was overwhelming evidence it was systematically used for human rights violations.
"These findings show that the surveillance industry is out of control. States must immediately implement a global moratorium on the export, sale and use of surveillance equipment until a human rights-compliant regulatory framework is in place."
But cyber security expert Paul Haskell-Dowland, associate professor at Edith Cowan University, said a framework that allowed spyware for one purpose and not another would be practically impossible.
"The minute you use any of these kind of technologies, the temptation for certain governments to use it for inappropriate means is going to be high. The opportunity that this malware will end up in criminals hands is also very high," he said.