Victoria will enter its sixth lockdown from 8pm on Thursday in response to the emergence of new mystery cases of COVID-19 in recent days.
Contact tracing is no longer enough to contain an outbreak of the Delta variant – people who have contracted the virus just can't be found fast enough.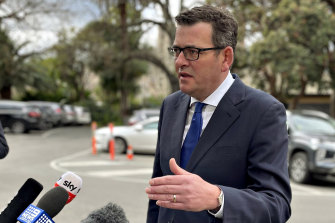 Even with the best QR systems and contact tracing, the infection cycle is now so fast that it is not possible to identify potential cases and test and isolate before they have time to become infectious.
We are still waiting on the genomics, but given the recent mystery case was a Delta case, we know we do have virus in the community despite our last lockdown.
Recent cases have largely been in isolation throughout their infectious period as either close contacts of known cases or who had been at Tier 1 exposure sites, or their household contacts.
The worker at the testing site could not be directly linked back to the outbreak other than via a genomic match. Now we have more "mystery" cases, some linked to each other, but at least three index cases that we can't link back to the outbreak.
So where were they infected? It is possible they are not related to the known Lockdown 5 outbreaks and instead link to different importations of the virus across state or international borders.
Given the timing, it is also likely these are associated with the recent two seeding events, the removalists and the family in Hume. The larger outbreak was thoroughly followed up, but there were important gaps in the investigation that mean we cannot be sure that we did track and trace every case, or identify every exposure site.