"The term 'cabinet' is not defined in the Constitution nor in any other legislation of the Australian Parliament."
Loading
In a key part of his judgment, Justice White said national cabinet was not "of" the federal cabinet because federal cabinet had to consist of those elected to Federal Parliament, excluding a provision that allows someone to be in cabinet for three months without being in Parliament.
Only one member of national cabinet, Mr Morrison, is a member of the federal cabinet and of Federal Parliament, raising the question of whether national cabinet was really a committee "of" the federal one.
"The effect is that persons who are not, or who cease to be, elected members of the Australian Parliament can be a member of the Executive Council for only a very short period," Justice White said.
"A group which is not 'of' the cabinet will not be a committee of the cabinet."
Senator Patrick said this meant Mr Morrison had been putting a false argument to Australians about the peak group.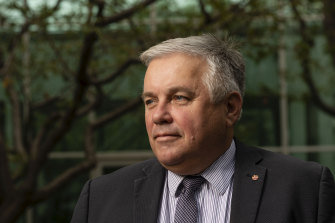 "The thing the Prime Minister labelled national cabinet is a faux cabinet. It's just another intergovernmental meeting, in effect the former Council of Australian Governments, COAG, by another name," Senator Patrick said.
"For almost 40 years Australians have had a legal right under the Freedom of Information Act to access information relating to intergovernmental meetings, subject only to a test of public harm.
"Last year Prime Minister Morrison tried to take that right away. He did not ask the Parliament to change the law, he just declared that national cabinet to be part of the federal cabinet and as such exempt under the cabinet secrecy exemption of the FOI Act."
"That arrogant declaration has now been overturned."
The documents to be released, unless the federal government appeals, include minutes of the national cabinet meetings in the first half of last year.
Senator Patrick said he had won all his appeals against the government on FOI requests so far, with a score of 12 – nil.
The Morning Edition newsletter is our guide to the day's most important and interesting stories, analysis and insights. Sign up here.