This marked the first time the U.S. has failed to make the final since 2008, when Gay was involved in a bumbled exchange. The U.S. made the final in 2016, but got DQ'd for another bad pass in the medal race.
Loading
"Trying to time that up perfectly with a couple of practices is a little difficult, but it is what it is," Baker said.
Indeed, the team has not practiced much, but that's no different from any other country. All have had their training time restricted because of the coronavirus pandemic, both in Tokyo and in the year leading up to it.
This didn't seem to impact China, Canada or Italy, who finished 1-2-3 in a qualifying heat that most teams use more as practice than a hard run.
It also didn't impact the U.S. women, a team headlined by Teahna Daniels and Javianne Oliver, who also ran in the individual sprints and estimated they got about five practices in with their teammates.
"When me and 'J' were doing the 100, I know the rest of the ladies were really getting it done with handoffs and things," Daniels said. "We trusted what they were doing and we just kind of gelled into each other for this."
The men did not gel. They often don't.
This marks the 10th time since 1995 they have given away a relay at a world championships or Olympics, either due to a disqualification, a dropped baton, a doping violation, or a faulty exchange, the likes of which led to the latest result.
They had reason to think things were changing.
Usain Bolt once suggested the Americans "tend to panic," especially knowing what might be required to beat him and his Jamaican teammates to the line.
But with Bolt out of the mix, and with Christian Coleman and Noah Lyles in the lineup, the United States romped to a victory at the world championships in Qatar in 2019. The win was triggered by a team meeting Coleman called after a shaky run through qualifying. They got on the same page, and after the final, Lyles screamed "We broke the curse! We broke the curse!"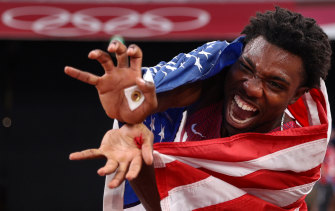 But Coleman isn't at the Tokyo Olympics because of a ban involving missed doping tests.
And Lyles won a bronze in the 200 on Wednesday night, so he had the morning off.
Now, he's got the rest of the week off, too.
"I'm honestly kind of mad, not at these guys, they did what they could do," Trayvon Bromell, who ran the opening leg, told NBC after the race. "I did what I can do. I can really just speak for myself in a sense. Like I said, these guys did their job, I did what I could do. On the first leg, it just — it's really some BS for real, to be honest with you."
AP
Never miss a medal or great sporting moment with our Olympic update emailed daily. Sign up for our Sport newsletter here.