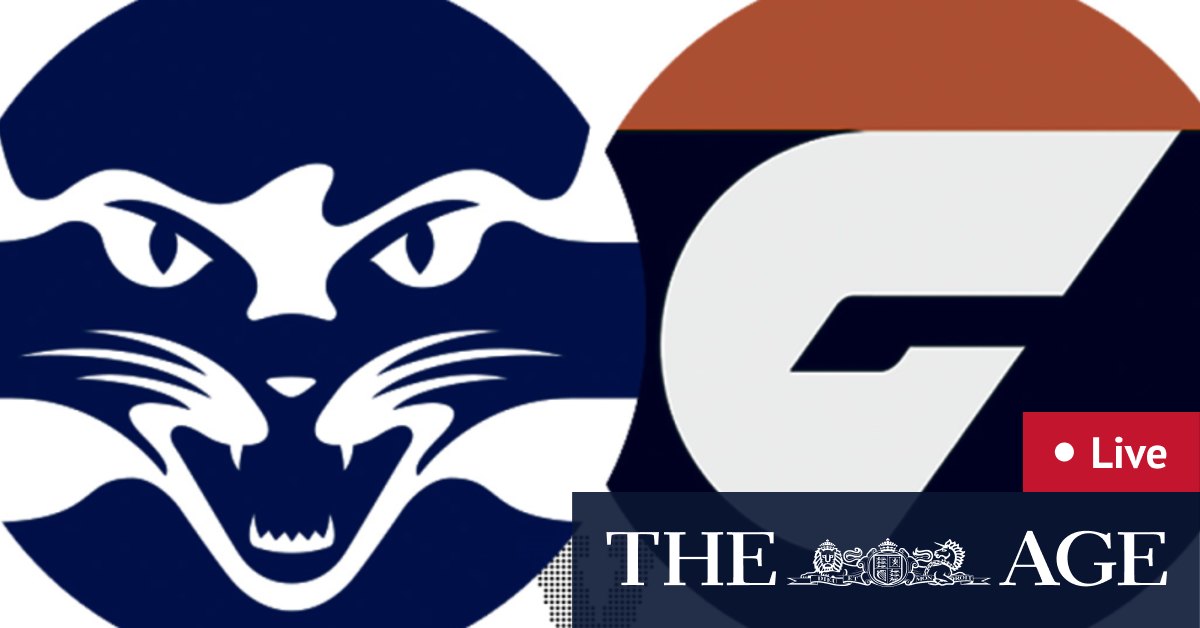 Mark Blicavs has kicked his side's first goal in more than 37 minutes after being awarded a 50-metre penalty.
Brent Daniels ran through the mark when Blicavs had the ball on the wing. He argued he was following opponent Jed Bews but the umpire said he wasn't within two metres of Bews. But it was a pretty blatant 50.
Blicavs was taken to 30 metres out and he converted.
Cats 2.4 (16), Giants 5.4 (34)
Channel 7 commentator Matthew Richardson reporting that Patrick Dangerfield is heading to hospital to be assessed for a throat injury, suffered in a high fend off.
Zach Sproule has just kicked a set shot goal to land his side's fifth straight goal.
It was a beautiful finish at the Ablett grandstand end.
The Giants have had eight of the past 10 scoring shots.
Cats 1.3 (9), Giants 5.3 (33).
In case you missed it, Jake Kolodjashnij kicked his first career goal in his 127th game.
Team stats (Cats-Giants): Disposals 93-88, inside-50s 14-15, disposal efficiency 74.2% – 67%, efficiency inside-50 28.6% – 46.7%, hitouts 20-7, clearances 11-9, centre clearances 4-0, marks 22-21.
Analysis: The stats are pretty even possession-wise, but the Cats have missed some very gettable shots on goal. The Giants have been very efficent going the other way. The Cats are dominating the hitouts against the Mumfordless-Giants but the Giants midfielders are doing enough to even the stoppages.
Note: Patrick Dangerfield subbed out with a throat injury, Quinton Narkle in.
Geelong Cats 1.3 (9)
GWS Giants 4.3 (27)
Strong first quarter for the Giants. It looked a little concerning in the opening few minutes as the Cats dominated possession, but the Giants steadied and really settled themselves in defence. That has set up their game across the ground and they look really damaging in attack going one-on-one against the Cats. Tom Stewart hasn't been able to pick off intercept marks, which has been a cornerstone of Geelong's defence in recent years.
Leading disposals: Isaac Cumming (10), Tim Taranto (9), Toby Greene (8), Jed Bews (7), Shaun Higgins (7), Brandan Parfitt (7), Zach Tuohy (7)
Goals: Cats: Jake Kolodjashnij. Giants: Callum Brown, Toby Greene, Matt Buntine, Harry Himmelberg
Did the ball brush Brad Close's foot in the Cats' goal square?
Close tried to snap a goal but the ball missed his foot and hit Nick Haynes' foot as Haynes tackled Close.
The score review awarded it as a behind, but the reviewer may have completed his review too quickly. Another angle is showing the ball may have actually come off Close's foot last!
Cats 1.3 (9), Giants 4.3 (27)
Irish 'debutant' Callum Brown has just kicked his first goal in AFL footy. It's actually his second game after he played as sub last week.
Like Himmelberg, he found himself at the back of a pack, crumbed it off the back of the pack and dribbled the goal while being tackled.
The Giants look likely of taking a nice lead into quarter-time.
Cats 1.2 (8), Giants 4.2 (26)
Matt Buntine and Harry Himmelberg have just put on two goals in as many minutes for the Giants, and they lead 3.2 (20) to 1.2 (8).
Himmselberg was one-on-one inside-50 against Nathan Kruger and Kruger went to ground as Himmelberg marked one-handed out the back and ran into an open goal.
They look well drilled tonight, the Giants, and they're executing Leon Cameron's plans.