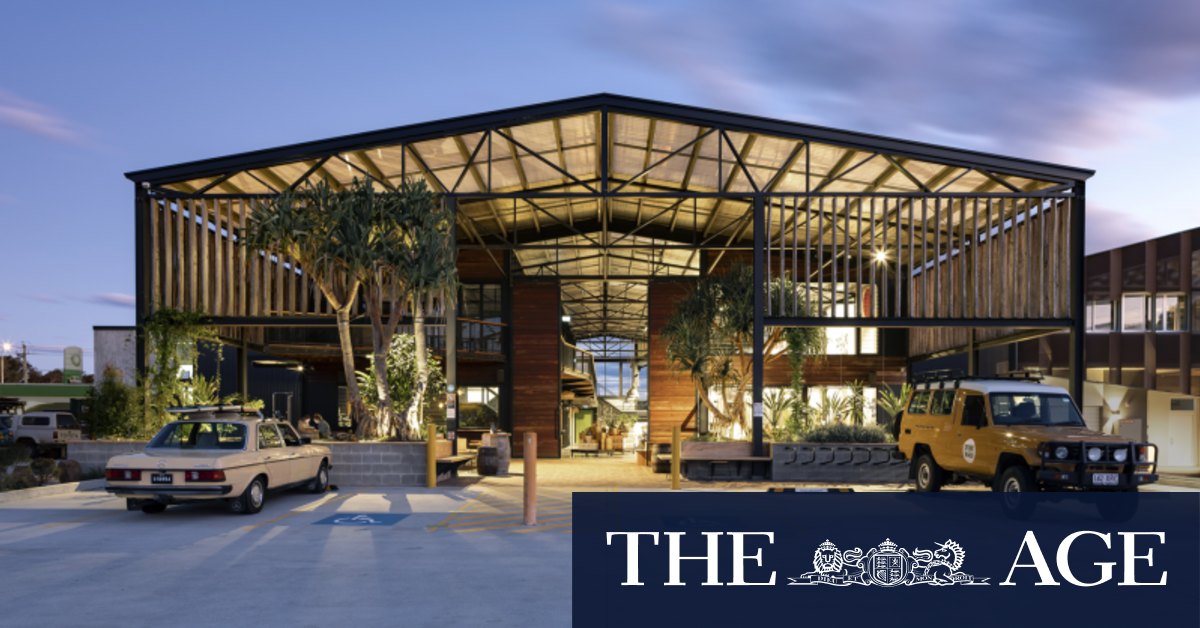 Given the scale of the shed, with an apex of 11 metres, there was no point in looking for a kit shed and repurposing this for a beer company.
The project was divided into two parts, the first being the shed builders who constructed the steel and concrete tilt panels, together with the Dampalom panels (allowing the roof to create additional light).
The second group were the local carpenters who clad part of the exterior with iron bark and also camphor laurel, considered a weed in New South Wales. This will eventually fade to a silvery hue in time.
Given the climate and the fact it's a brewery it's only natural that a beer garden, adjacent to the main entrance, was included.
Working closely with landscape architects Plummer & Smith, this forecourt/entrance is densely planted with large pandanus trees.
This verdant edge is also carried through to the shed, with the lounge area framed by potted plants on shelves and suspended from the ceiling.
Unlike many breweries, where there's a glass wall between the vats and tasting/seating areas, here patrons can be seated close to the vats. There's a concrete bar and benches for tasting the various beers.
There are also trestle-style tables through the centre of the premises and even a series of steps and gangplanks that allow people to get that much closer to the source: giant vats that skirt the exposed ceiling.
"We wanted people to see how the beer was made, as much as enjoying the food on offer (a canteen/kitchen is located to one side)," says Graham.
Local artist Paul McNeil, a former Mambo artist, also made his mark with his abstracted waves painted on a concrete wall.
Harley Graham Architects also wanted the same sense of connection for the three founders' offices on the mezzanine level.
Loading
Loosely veiled by a perforated steel mesh balustrade, the sight lines from these offices through to the vats is unimpeded.
Graham compares this estate to others such as the Chelsea Market in New York, once a meat packing district and now one of that city's most exciting precincts to visit.
The Byron Arts & Industry Estate, like New York, has also become a drawcard for leading Australian fashion labels who have established headquarters here, such as Spell and Afends – both making significant ripples on the global fashion scene.
And while Graham still recalls the many mechanical workshops and light industry that established this estate in the 1950s and '60s, today it's attracting a creative cohort who also appreciate their local beer.