We could have a pair of big upsets on our hands here.
At Marvel Stadium, Higgins has a game-high three goals to give his Saints a 17-point lead over the Swans with 6:34 left in the second quarter, 8.1.49 to 5.2.32
And at Adelaide Oval, McHenry has booted back-to-back majors to put Adelaide up by 18 points against Port Adelaide with 2:13 remaining in the first half, 4.5.29 to 1.5.11.
Incredible scenes across the AFL world at the moment!
Meanwhile, Showdown 50 at Adelaide Oval couldn't be more diametrically opposed to the spectacle unfolding at Marvel Stadium.
We've had just the one goal in the second quarter, with Fogarty nailing a set shot to help the Crows lead the Power by five points with 8:50 left in the second term, 2.4.16 to 1.5.11.
Just three goals in total in the City of Churches compared to 12 majors combined between the Saints and Swans.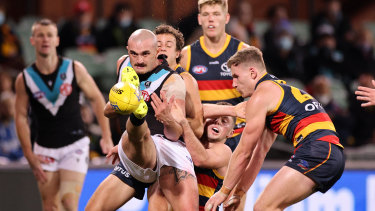 Goals from Kent and Steele, either side of a Dawson major for the Swans, have seen the Saints extend their lead to 10 points early in the second quarter.
The Saints, one of the most inaccurate teams of season 2021, are now 7.0.42 to Sydney's 5.2.32. This is such a great game, it's a shame no fans are allowed to witness it at the ground.
What an entertaining shootout that first quarter was. Nine goals in total from just 24 inside 50s. Incredible efficiency from both sides.
Higgins has gone a long way already to exorcising the demons from the last time he played Sydney with a pair of lovely goals and Highmore is having a great game in defence so far too.
Sydney are down by five points despite dominating the clearances 14-6 while also leading the disposals 90-84, inside 50s 13-11, contested possessions 34-33 and free kicks 6-4.
But St Kilda's pressure has been brilliant, almost doubling the Swans for tackles (19-10). They're also comfortably beating Sydney for marks 24-14 and have the advantage in hitouts 11-8, too.
St Kilda 5.0 (30)
Sydney 4.1 (25)
GOALS
St Kilda: Higgins 2, Sharman, King, Membrey
Sydney: Gulden, Franklin, Florent, Papley
DISPOSALS
St Kilda: Highmore 10, Crouch 6, Dunstan 6, McKenzie 6, Sinclair 6, Steele 6, Webster 6
Sydney: Parker 9, Cunningham 7, Hewett 6, Papley 6
INTERCEPTS
St Kilda: Highmore 6
Sydney: Cunningham 3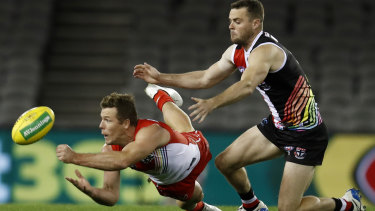 Adelaide 1.3 (9)
P.Adelaide 1.2 (8)
GOALS
Adelaide: Himmelberg
P.Adelaide: Butters
DISPOSALS
Adelaide: Laird 8, McPherson 6, O'Brien 6
P.Adelaide: Aliir 9, Bonner 9, Burton 7, Drew 7, Wines 7, Powell-Pepper 6
INTERCEPTS
Adelaide: Butts 4, Murray 4, Kelly 3
P.Adelaide: Aliir 7, Bonner 3
Port Adelaide find themselves behind despite leading the disposals 93-85, tackles 19-17, marks 22-14, inside 50s 14-12, free kicks 8-6 and hitouts 9-6.
The Crows are on top in clearances 10-8, contested possessions 41-38 and scoring shots 4-3.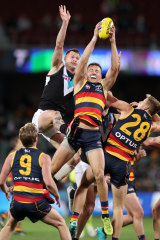 Richmond's finals charge remains alive – just – after kicking 11 second-half goals to three to roll over the top of North Melbourne at the MCG, moving to ninth on the ladder, half a game behind Greater Western Sydney. Click here to read the full report.
An entertaining start to the game at Marvel Stadium sees the Saints enjoy a seven-point lead after 18 minutes, 3.0.18 to 2.0.12. And the lead could've been bigger had Kent not missed everything from a set shot 35m out directly in front.
Leading disposals: Highmore 6, Parker 6, Steele 5
The Crows lead the Power by a point halfway through the first quarter, 1.1.7 to 1.0.6. Butters and Himmelberg are the goalkickers.
Leading disposals: Aliir 5, Amon 5, Murray 5, Wines 5
The Saints have recovered from Gulden's opening goal for the Saints with back-to-back majors from Sharman and Higgins giving the hosts a six-point lead after 10 minutes, 2.0.12 to 1.0.6.
Marshall and Hickey are doing battle in the ruck while Wilkie has the big job on Franklin in the Saints' undersized backline which is missing Howard. Rampe is manning King.