Eyakem said she had one message for the wider community: "We are good people. We do not need the police force to be applied to us to do the right thing. We will obey the rules and take care of ourselves and others."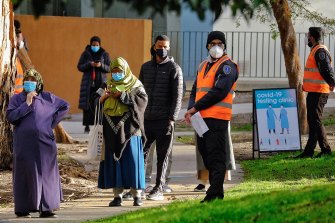 Meanwhile, there is every sign that the Health Department understands that this part of the COVID-19 response is key to restoring its reputation after the strong criticism from the Ombudsman, Human Rights Watch and the hotel quarantine inquiry.
Department secretary Euan Wallace was on site on Saturday morning, and later Jeroen Weimar, commander of the state government's coronavirus response, was spotted watching the setting-up of a marquee where residents would be brought for COVID-19 testing.
Nor Shanino was raised in the tower at 130 Racecourse Road. His parents and sister still live there, and he is now a community worker who helps represent the community to the government.
Asked about the government response, he said: "Well, it's a back-handed compliment but it's better than the disaster we had last year."
He had been to the estate on Saturday afternoon, delivering groceries for his family and other residents.
Last year, efforts by community members to get goods to family and friends was a flashpoint of tension with police and an initially condescending and intransigent bureaucracy. This time, though, it went smoothly. Community members employed as health concierges helped deliver the goods without breaching infection control.
Anxiety on the estate had been rising after COVID-19 cases were detected at Al-Taqwa College, in the outer western suburb of Truganina, which is attended by many children from the Flemington towers.
The Health Department and Victorian Multicultural Commission stepped up efforts earlier this year to involve the community in the public health response.
There were Zoom meetings for community and faith leaders on Thursday and Friday evenings, with the first attended by Premier Daniel Andrews, who took questions and told attendees "we need you".
Senior Health Department officials assured the attendees that "lessons had been learned" from what happened a year ago – not least about the strength of the community and its capacity to be involved in its own care.
Loading
Those who took part in the meetings were told that if it was necessary to lock down a public housing tower, it would be handled in the same way as the recent response in private apartment buildings – with a health-led effort and minimal police presence.
Public health messaging, however, remains a challenge. "Sarah" – a middle-aged woman from Sudan who lives at 130 Racecourse Road, was one of the positive COVID-19 cases on the estate last year.
On Saturday, she said she would not be getting vaccinated or tested for COVID-19, after seeing social media content from doctors in Sudan about the dangers of the vaccine. "I trust them more than this government that locked us up," she said.
The atmosphere on the estate on Saturday was anxious, but low-key.
It is, as Nor Shanino said, early days. It is likely more cases will be detected. The response may be stepped up. There has been a lot of work to rebuild trust over the last year, but it remains fragile.
On Friday, some community members said people from the estate were moving to live with relatives elsewhere, for fear of being locked down.
"We will see," Shanino said. "There are still things that need to improve. But yes, at least it is better. It needed to be better."
The Morning Edition newsletter is our guide to the day's most important and interesting stories, analysis and insights. Sign up here.