Welcome to Quick Q – Monday's Media weekly Q&A series dedicated to finding out more about the personalities that matter most in the Australian media landscape.
Every week The Sydney Morning Herald and The Age asks key figures across corporate media, business, sport, federal politics, radio, television and culture to answer a series of questions about their life, careers, hobbies and news habits.
This week's conversation is with Jane Bunn, Seven News Melbourne's meteorologist.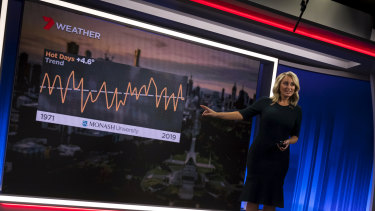 How did you get your big break?
While I loved forecasting the weather at Bureau of Meteorology, I found that I also loved telling people about it. So I called up and asked for the news director and said, 'I'm a meteorologist and want to be a weather presenter'. He was looking at results of a survey that said viewers wanted more credibility with the weather, so I got a screen test and was offered the job.
What are daily news media habits?
Mine are mainly weather focussed. When I wake up I look through all the observations from the night, and analyse the new model data of the morning. I monitor the weather all day, then analyse the next model output late afternoon, just before news time.
Which living person do you most admire?
My mum.
Your guilty streaming pleasure?
Younger.
Which phrase do you overuse?
Wispy high cloud.
What did you want to do when you grew up?
Be a dancer or actress.