"It's not easy to be locked down as they are now, waiting for test results, and some will have to be locked down, regardless of their negative test result, for the full 14 days," Mr Andrews said.
One resident, who did not wish to be named, emerged from 130 Racecourse Road on Sunday morning after receiving his negative result.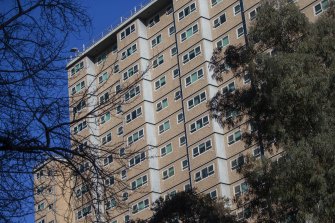 He said the response from authorities was far better than in last year's outbreak, when police swarmed the towers, traumatising residents in what Ombudsman Deborah Glass later called a "theatre of policing" that breached human rights.
"We need doctors and we need nurses, not police," the resident told The Age.
Faisal, who is aged in his 50s and lives in one of the neighbouring towers, came down for a test "just to be safe".
"Last year, it was complicated," he said. "They have the idea now."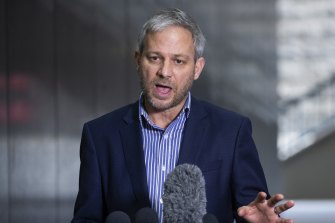 Rahma Abdirahman, 35, lives at 120 Racecourse Road, opposite the 130 building, with her three small children.
She was out on Sunday to get a COVID test after realising she had been in the lift with a family who had children at Mount Alexander College.
Loading
She said she and her children will isolate for 14 days to "do the right thing".
"I don't want to be locked down, I didn't want to get tested, but I have to," she said. "Whether it comes back negative or positive, I'm going to stay in for 14 days. It's no joke."
Her daughter Sabrina, 10, said she enjoyed the family time but would miss her friends from school.
"I love going to school and I love seeing my friends, so the fact I'm not allowed out of the house isn't the best," she said.
Ms Abdirahman said the way authorities were handling the towers this time was far better.
"The way this was handled last year made us feel like second-class citizens," she said. "The way it has been handled this time around, there are no police officers … there is no sense of fear. If they can learn from their mistakes from last year and it can be better implemented than last year, then I'm all bloody for it."
The Greens' state MP for Melbourne Ellen Sandell agreed the response was better and led by health officials, rather than police. "I'm so relieved the state government has finally learnt some lessons from last year's disaster," she said.
Ms Sandell said her priority was to push for vaccine clinics to be set up at the towers on Monday, after they were paused in recent weeks. She asked for the Health Department to investigate a safe way for residents in isolation to access fresh air. "Many of these small public housing apartments don't have windows that open and don't have balconies like private apartments do."
The Morning Edition newsletter is our guide to the day's most important and interesting stories, analysis and insights. Sign up here.