Of course, much is guesswork and the Victorian government won't give up the games easily, so we are probably going to have to put up with this political dance about the big dance for a few more weeks.
But unless things change dramatically on the eastern seaboard Victorians, as despondent as it will make us feel (particularly if you barrack for the Demons), deserve to be spared the 'will we, won't we' question as soon as possible.
TRIBUNAL TO BLAME FOR GREENE SCENARIO
If Toby Greene misses matches because his right forearm hit Patrick Dangerfield's throat when he raised it as the Geelong star raced into tackle him he is entitled to feel victimised.
But only because of the precedent the tribunal set in its hopelessly inadequate decision to clear Melbourne's Bailey Fritsch for a similar act in round seven and the AFL's willingness to clear Dangerfield when his forearm knocked out Nick Vlastuin in last year's grand final.
Greene received two weeks because the MRO – who also gave Fritsch and Buddy Franklin a week's suspension before the tribunal cleared them – classified the Giant's impact as high after Dangerfield was subbed out struggling to breath and spent the night in hospital with bruising of his laryngeal. He is in doubt for this week.
Make no mistake, players should attract suspension for raising their forearm when an opponent rushes in to tackle them. It is a dangerous way to fend off the tackler who is open and travelling at speed.
The Giants argue Greene's action was a footy incident and the Cats' coach Chris Scott cautioned against making judgments based on slo-mo replays and different camera angles.
But if you make a judgment on potential to cause injury then little of that matters as a forearm is a weapon (on that judgment too, Cats' skipper Joel Selwood was lucky to receive a fine for his bump on the Giants' Sam Taylor).
Relevant in Greene's case will be which members sit on the panel – who may be different to those who sat on Fritsch's case – as well as the medical report.
Loading
The Giants believe raising an arm is a natural reaction to being off balance with an opponent coming at you, with Dangerfield's slight slip as he decelerated when reaching Greene placing his head lower than the Giant would have anticipated.
The tribunal created the mess in clearing Fritsch after round seven but Greene should not be the one to clean things up.
There was no attempt to outlaw the act after seeing the impact of Fritsch or Dangerfield's forearms so Greene – who has a bad habit of lifting a leg or an arm when protecting space – was right to think that he was free to do what he did on Friday night.
He should play against Richmond and the AFL tribunal, which got it wrong earlier, can then live with the justified outrage.
FLAG RACE IS WIDE OPEN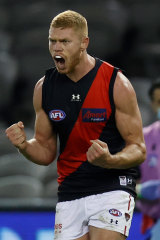 Essendon are now on the edge of finals as Peter Wright heads into a match against his former club, the Gold Coast, on the back of a brilliant seven-goal performance against the Western Bulldogs.
That was the win against a top-line team they needed to give their improvement in 2021 even more credence but it also showed how desperate the Bulldogs are to get Alex Keath back in defence for finals.
With Geelong and the Bulldogs losing and Port Adelaide battling to beat the Crows, the premiership will be won by the team that follows the now-familiar formula of hitting its best form in September.
A RULE 35 TWEAK
After a troubling week that saw Adelaide's Taylor Walker penalised for racial vilification, the push for a greater diversity of backgrounds in the game's key decision-making positions must take on more urgency. One potential improvement to Rule 35 (The Peek Rule) would be to have an Indigenous players' representative (voted in by his Indigenous peers) who can be brought into the complaints-handling process when an AFL official coach or player is subject to an allegation. This would ensure the confidentiality provisions of the rule serve a proper purpose rather than potentially serving the interests of anyone found to have vilified others. It would also increase the faith people who have experienced racism have in the decision-makers assessing the gravity of each incident.
Keep up to date with the best AFL coverage in the country. Sign up for the Real Footy newsletter.