"Pete had a good day out. (Aaron) Francis kicked two and was a really strong target in the first half and (Sam) Draper drifted down there too. It was pleasing that our big guys were able to impact.
"Pete's done the work. The way he showed up, his willingness to learn and really looked to grow his game has been first class, really fantastic. Its nice to see him get some reward.
"Things might not have worked out for him last year but the way he has applied himself at our club has been fantastic."
It was a glum Beveridge who was despondent at his side's inability – after a bright start when they dominated the first quarter but could only build a 13 point lead – to convert their chances.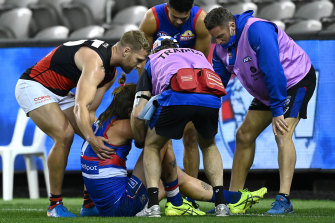 "I don't think I have come across a game like that, where they kicked 15.7 from 39 inside 50s, and we were really inefficient and they were very efficient. To have 60 inside 50s to 39 and lose the game by that small margin it's hard to process," Beveridge said.
Loading
"That was largely the game. (They were) too clean out of centre bounce and their kicking to their forwards was very very good. We don't usually put our backs under that much pressure, but we couldn't defend big Peter Wright and he kicked extraordinarily well.
"We didn't tackle like we usually tackle either and that was another inefficiency. Just the quality of Essendon's game allowed them to outlast us."
Bruce will be examined tomorrow to determine the severity of what the club fears could be an ACL injury.
"It's not looking good, but our guys will confirm what the outcome is after a scan tomorrow," Beveridge said.
"Asked if it was an ACL he replied: "that seems to be the fear.
"We shouldn't write it up until we get confirmation. It's a bit risky. When the medicos infer that something as drastic as that has happened, they always want confirmation.
"We don't know the extent of it. You get ones that surprise you, we still hold out a bit of a hope."
He was more optimistic about Josh Schache, who went off the ground and came back on.
"He just jarred his knee, got a little bit of bruising. Our guys think he's going to be okay."