So after a couple of weeks, 17 Australian gold medals and a lot of great sport that made lockdown easier, the Tokyo games are about to officially end.
The closing ceremony begins in about 45 minutes.
There's a few things that always happen at the closing ceremony. There's the handover to the next Olympics host – in this case Paris – and the athletes enter the stadium (like the opening ceremony not all will be there because of social distancing).
Entertainment is usually a factor too – who could forget John Paul Young singing Love Is In The Air at Sydney 2000's closing ceremony – and of course many dignitaries will have their say.
What's happening right now in Tokyo? Well, like there has been at times these games, there are more anti-Olympics protests: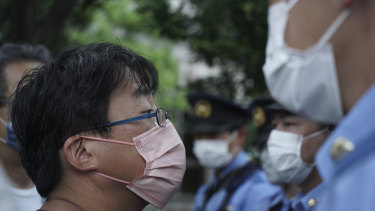 It's been a pleasure helping bring you the action over the past 16 days. Thanks to all those who have followed along and joined the conversation. So for the final time for these Games, here's Anthony Colangelo to take you through the closing ceremony.
Weightlifting was marked by a series of breakthroughs at the Tokyo Olympics – the first openly transgender athlete to compete at any Games and the Philippine's first gold ever – but recent doping scandals are clouding its outlook ahead of Paris 2024.
New Zealand's Laurel Hubbard made history on Monday by becoming the first openly transgender athlete to compete at an Olympic Games in a different gender category to that assigned at birth, while Philippines' Hidilyn Diaz became her country's first ever Olympic gold medallist.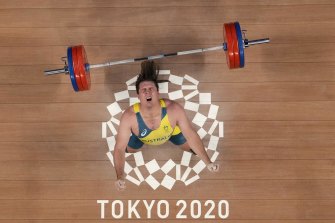 China scooped up the most medals in the absence of powerful lifters from North Korea. But the sport has recently been mired by doping scandals and an International Weightlifting Federation official last month cast doubt on its future at the 2024 Olympic Games in Paris. International Olympic Committee president Thomas Bach said on Friday the sport's governing body had to improve governance.
"I am not aware at this moment of any case in competition, or of any disqualification because of doping. This applies to weightlifting," said Bach, referring to the Tokyo Olympics.
"But with regard to weightlifting there's more than just doping. With regard of good governance I think we still need to see a culture change in this international federation."
Weightlifting is included in the program for the Paris Games but that decision may be overturned depending on a number of factors such as governance and doping, IWF official Sam Coffa told Reuters in July. Athletes, however, vowed to return in three years' time.
Reuters
Only 0.002 per cent of athletes and officials at the Tokyo Olympics tested positive to COVID-19, demonstrating that a city can host a major sporting event in the midst of a pandemic, says Australia's John Coates, the IOC's co-ordinator of the Games.
Coates revealed that an Olympic village population of nearly 15,000 athletes and officials produced only 31 positives. The stakeholders, including volunteers and sponsors, produced a further 71 positives.
The decision to scrap Australia's public gold medal projections has been a factor in the country's stunning Tokyo Olympic Games performance, according to the boss of the Australian Institute of Sport.
As the delayed Olympics come to a close on Sunday, the man responsible for allocating public funds to Australia's national sporting organisations has backed the Australian Olympic Committee's decision to abolish medal targets after underperforming in Rio.
My Tokyo Olympics hero was Cedric Dubler. Being called Cedric would have been enough to get him over the line. But there was so much more to him than his name.
To be honest, I didn't know of Dubler beforehand, and in a year's time might find that his surname at least is just beyond the tip of my tongue. I doubt he'd mind. The whole point of the Olympics is those 15 minutes in the sun, or in Tokyo, under the nearest shadecloth.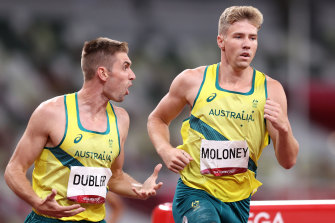 The final bout of karate's historic debut at the Olympics ended in uproar on Saturday when Saudi Arabian Tareg Hamedi's high kick to Sajad Ganjzadeh's neck saw him disqualified and his motionless Iranian opponent awarded the gold medal.
Hardly a minute in, Hamedi looked dominant, having scored a three-point "ippon" in the ninth second and he was leading 4-1 before the bout came to an abrupt end.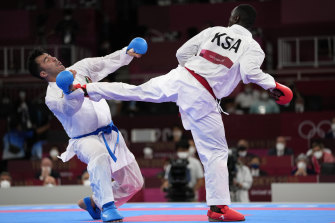 Federal Minister for Sport Richard Colbeck has lauded Australia's efforts at the Games.
"On behalf of all Australians, I would like to congratulate our Olympians for their outstanding success and achievements," Colbeck said.
"You have allowed us to cheer from the sidelines and had us on the edge of our seats, uniting us as a nation at a time when we have never needed it more."
That's all for the actual sport at the Tokyo Olympics. The closing ceremony is to come, but competition is officially over with Serbia's 13-10 win over Greece in the men's water polo gold medal match. That's Serbia second consecutive gold medal in the water polo. Hungary had won three on the trot from 2000 to 2008 but they were sensationally dumped by Greece in the Tokyo semi-finals.
Silver is Greece's first medal in the men's Olympic water polo competition. Gold has never not been won by a European country in the men's water polo stakes. Dusan Mandic, Nikola Jaksic and Andrija Prlainovic all top scored for Serbia, with three goals each on Sunday.