Environment Minister Meaghan Scanlon said grants of up to $40,000 were available "to conserve places on our heritage register".
Ms Scanlon said the new heritage advisory panel was looking at ways to bolster existing heritage processes.
"The panel is now reviewing those processes and ways we can actively promote and encourage communities to apply for places of historical significance to be placed on the heritage register," Ms Scanlon.
Ms Scanlon said she expected recommendations from the heritage advisory panel "later this year".
"The review includes looking at how places of state and local heritage significance can be protected, how legislative frameworks can be strengthened, best practice heritage principles as well as feedback from groups like the Toowong Residents Group."
At Kangaroo Point, dozens of skips of rubbish has been removed, weeds have been cleared and tangled vegetation removed to allow the restoration to begin.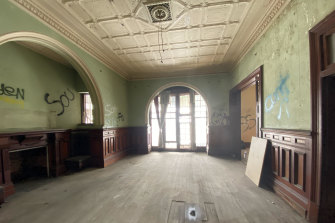 Lamb House was added to the Queensland Heritage Register in October 1992.
Previous owner Joy Lamb – whose family had built and owned the property for 118 years since 1902 – moved from the property in 2015.
Mr Wilson said Lamb House should have been protected between 2015 and 2021.
"The six years since no one has been there, has wreaked havoc on its structural integrity," he said.
"Even now, every time it rains, damage is occurring."
A Queensland Residents group has surfaced on Facebook, also arguing for a review of Queensland's heritage and planning legislation after a Queensland heritage-listed home – Toowong's Linden Lea – was demolished in March 2021.
In the past month, the Wilsons have appointed heritage architect David Gole from Conrad and Gargett architects – who is also overseeing the restoration of the old Thomas Dixon boot factory into new headquarters for Queensland Ballet – to project manage Lamb House restoration.
Loading
James Davidson Architect – now restoring Woolloongabba's Princess Theatre – and heritage builders Chapman Builders complete the main construction team.
"By having the right team upfront; we are aggressively aiming for a two-year restoration program," Mr Wilson said.
They have begun to receive messages and emails from people offering to return "souvenired" furnishings from Lamb House, believing it would be destroyed.
The Wilsons will modify Lamb House and live in it as their private residence, but will open it for public visits, probably through the Open Homes program.
"It's a six-bedroom house, but it has one bathroom. It was built in the days when you had maids and the kitchen was out the back and there are servants' stairs," Mr Wilson said.
"We need to build it for the next 100 years, so we will add some new structures, which modernise the house, but do it in ways which are subservient to the house itself."