A popular South Melbourne hotel has been fined $10,000 for breaching COVID-19 restrictions.
Paul Dimattina, a former AFL player, said his Lamaro's Hotel was hit with the fine for trading past the introduction of the 8pm COVID-19 lockdown last Thursday.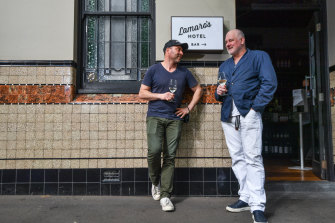 He stressed he had nothing negative to say about the police, but was upset and confused given the hotel wasn't trading past 8pm.
Mr Dimattina said a few friends were in the hotel having a drink with him and consoling him in the face of yet another lockdown. He asked for privacy on Monday and said he was struggling with a physical health condition and his mental health.
Loading
Victoria Police Commander Debra Robertson flagged during a press conference on Monday that a South Melbourne venue had been fined, but she didn't say it was Lamaro's.
"That proprietor did receive just over a $10,000 fine," she said. "If you are in breach of any of the Chief Health Officer directions, then of course if it's blatant and deliberate, then police will fine."
Police also confirmed they fined a venue on Collins Street in Melbourne's CBD nearly $11,000 on the night Victoria's lockdown came into effect.
Police said when officers attended the Collins Street premises after 10.30pm, they "observed approximately 20 patrons eating and drinking inside".