Telstra's health investment arm has put itself squarely on the radar of Australia's GP clinics after closing a $350 million takeover of clinic management software company MedicalDirector.
Board chair of Telstra Health, Brendon Riley, said the telco's investment arm was involved in a range of health sectors – from aged care to pharmacies – but the MedicalDirector purchase unlocked a key new market.
"There's [been] one really important piece of that ecosystem missing, and that's GPs," he said.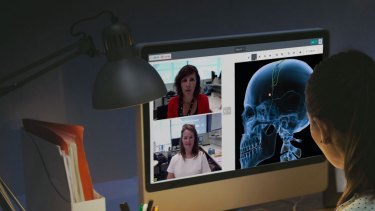 Telstra confirmed on Monday it was the successful bidder for MedicalDirector, which has previously been owned by ASX-listed Primary Healthcare (now known as Healius), and was bought by Affinity Equity Partners in 2016.
MedicalDirector is one of the oldest management software companies in Australia and has been operating for 25 years. It provides digital tools for patient scheduling, billing and medical records with a focus on GPs, and is involved with 80 million Australian consultations each year.
Mr Riley said Telstra Health was keen to engage with local doctors about improvements that they would like to see made to the platform.
"I think as a new owner, we want to definitely send a very strong message that we are in it for the long term."
"We will have investment funds to make sure their voice is heard," he said.
The deal values MedicalDirector at an enterprise value of $350 million. Telstra Health managing director Mary Foley said the company now intends to invest further to take the platform "to the next level", though details of these new features would be hashed out after Telstra Health had met with MedicalDirector staff.