That's it for tonight, thanks for following along. Here are some of today's headlines:
Police have swarmed Flinders Street Station in Melbourne's CBD, blocking off its entrance and ordering all passengers to leave.
An anti-lockdown rally was set to go ahead outside the station at 7pm, but with dozens of officers on standby and choppers overhead, there were few signs of protest.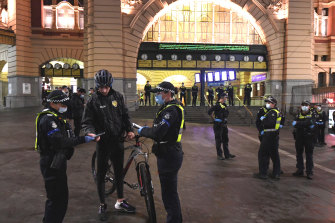 A commuter said she was changing trains at the station when police in body armour told everyone to leave.
She was waiting outside with several others to get back in.
One man was led away while eating a banana at the corner of Swanston and Flinders streets, his sister-in-law said it was because he wasn't wearing a mask and had refused to provide his address.
She said she didn't know whether he was there to protest, but he was officially working.
Another man said "this is assault" as he was led away by police with his hands in the air.
Someone in a car driving past screamed "freedom".
Eight local government areas in the state's north-west have been plunged into lockdown following a case in the remote community of Walgett.
From 7pm, the LGAs of Bogan, Bourke, Brewarrina, Coonamble, Gilgandra, Narromine, Walgett and Warren will be in lockdown until at least August 19.
The stay at-home orders will apply to all people who live in those areas or have been there on or after 5 August 2021.
"The rules for this area will be the same as those already in place across Greater Sydney, as well as Dubbo, Tamworth, Northern Rivers, Armidale, Newcastle, Lake Macquarie, Maitland, Port Stephens, Singleton, Dungog, Muswellbrook and Cessnock," NSW Health said in a statement.
"Everyone in these areas must stay at home unless they have a reasonable excuse to leave. They also cannot have social visitors in their home from outside their household, including family and friends."
Here's an interesting graphic showing how Sydney's COVID vaccination rollout is tracking.
The data is broken down into 15 regions (larger than local government areas) to make it easy to compare.
Northern Sydney leads the way with 57.6 per cent of eligible people having had one dose. The South West has 38.6 per cent uptake.
The fully vaccinated figures show much the same trends with the northern suburbs a long way ahead of the south and south-western suburbs.
By hovering over each region, you can also see the growth in vaccinations in the first week of August.
The Walgett local government area in northern NSW will go into lockdown from 7pm tonight.
Walgett is located between the inland towns of Bourke and Moree.
Earlier we reported a man who tested positive for COVID-19 after being in Bathurst prison was in the Walgett area. He had more than a dozen close contacts, sparking concern among health authorities.
NSW Health will provide more details this evening.
Victoria's Chief Health Officer Brett Sutton says two COVID cases who spawned clusters in the state might have caught the virus through a "separate" incursion to the source of Victoria's fifth lockdown.
A Derrimut warehouse worker was the first case diagnosed in the new Maribyrnong cluster north-west of Melbourne. A woman in her 20s who teaches at Al-Taqwa College and her partner were the first diagnosed in a cluster in Hobsons Bay in the city's south-west.
ABC Melbourne Drive host Rafael Epstein asked Professor Sutton this afternoon whether he thought the current outbreaks were a continuation of the virus from weeks ago, or whether he thought there had been another case of someone bringing in the virus inadvertently from NSW.
"I think both are possibilities," Professor Sutton said. "The reality is for a previous outbreak, we had identified and linked every single case right up until the day we got zero new cases, so to see these cases so soon after that and not to have acquisition for them makes me think they're separate."
Professor Sutton said both the warehouse worker and the teacher hadn't identified any of the exposure sites, which authorities had laid out in fine detail, as places they'd visited.
"So it does seem more likely to me that it's maybe a separate incursion, if that's the word, and that it had been kind of dribbling along without being tested, without being identified, until it kind of exploded into the school and other areas," he said.
Professor Sutton said he hoped NSW could contain its outbreak but there was "no guarantee".
"It's a challenge, but increasingly if NSW can turn it around and we can get high vaccination coverage, there's the possibility that, even with incursions, that they'll end on their own without a lockdown being required."
He said he knew NSW authorities were doing "as much as they possibly can", but cases in the state needed to plateau and drive down before the risk to Victoria substantially changed.
NSW Health added new exposure sites in the Newcastle, Byron Bay and Dubbo areas where confirmed cases of COVID-19 visited.
Anyone who attended the following venues at the times listed is a close contact (tier 1) and must get tested and isolate for 14 days since they were there:
Lambton – Planet Fitness- Tuesday 3 August, 3.05pm to 5pm
Byron Bay – Byron Massage Clinic – Monday 2 August, 10am to 11am and Wednesday 4 August, 10.45am to 12pm
Byron Bay – Westpac ATM – Tuesday 3 August, 1.30pm to 1.45pm
Byron Bay – Success Thai Food – Tuesday 3 August, 1.15pm to 1.45pm and Friday 6 August, 4.45pm to 5.15pm
Byron Bay General Store – Wednesday 4 August, 7.45am to 8.15am
Bangalow – Butcher Baker Cafe – Thursday 5 August, 11.15am to 11.45am
Bangalow – Sparrow Coffee – Thursday 5 August, 6.45am to 7.15am
Byron Bay – Woolworths – Saturday 7 August, 12.45pm to 1.45pm
Bryon Bay – Zaza Kebabs – Saturday 7 August, 12pm to 12.30pm
Byron Bay – Ampol service station – Saturday 7 August, 11.45am to 12.15pm
Byron Bay – Ozi Go Car Wash – Saturday 7 August, 11.30am to 12pm
Byron Bay – Japonaise Kitchen – Saturday 7 August, 4.30pm to 5pm
Newrybar – Harvest Cafe – Saturday 7 August, 9.15am to 10.15am and Sunday 1 August, 7.30am to 7.45am
Byron Bay – Izakaya Gallery KURA – Friday 6 August, 5.30pm to 6pm
Bangalow Pharmacy – Thursday 5 August, 11am to 11.30am
Bangalow – Foodworks – Monday 2 August, 9.45am to 11.15am
Anyone at the following venues should immediately get tested and self-isolate receiving further advice from NSW Health:
Dubbo – Don Crosby Veterinary Surgery – Saturday 7 August, 8.55am to 9.45am
Dubbo – The Harvest Cafe – Saturday 7 August, 9.50am to 10.10am
Dubbo – Ashcrofts IGA – Sunday 8 August, 12.35pm to 12.55pm
Dubbo – Tim Koerstz Pharmacy – Monday 9 August, 1pm to 1.15pm
Dubbo – COVID Safe Clinic – Tuesday 10 August, 7.45am to 8.35am
There are also new casual contact venues. View the full list here.
Victorian health authorities have identified three more COVID-19 exposure states, bringing the state's total to more than 300.
The new exposure sites are all "tier 2" (casual contact) meaning anyone who attended them during the specified timeframes must get tested and isolate until receiving a negative result.
AMPOL Foodary, Melton – Friday, August 6 between 2.20pm and 2.30pm
Buddy's Hot Bread, Melton – Monday, August 2 between 9.30am and 9.50am
Byblos Market, Burnside Hub Shopping Centre, Burnside – Thursday, August 5 between 2pm and 3pm
Majestic Spices, Taylors Hill Village, Taylors Hill – Wednesday, August 4 between 6.36pm and 7.15pm
A full list of exposure sites can be found here.
Victoria's lockdown extension has proven the last straw for the Australian Ballet, which has cancelled the rest of its 2021 Melbourne season.
Some 44 performances of four productions, including Romeo and Juliet and Anna Karenina, were due to run at the State Theatre from late August to mid-October.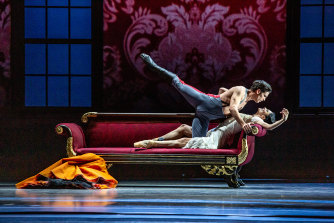 But the Ballet's executive director Libby Christie said they "cannot continue to prepare for seasons that are unlikely to proceed, or perform in theatres with restricted capacity".
Productions are expensive to mount, and the company relies on ticket sales for more than half its income.
The board and management decided the company "needs to preserve our financial resources and support our dancers and staff so that we are in good shape and can return to the stage when vaccination rates are high and COVID restrictions have eased".
Artistic director David Hallberg said it was a disappointing outcome but he promised "a triumphant return".
All performances will be rescheduled to 2022 and ticket holders will be contacted once new dates are confirmed.
The company is yet to decide on its Sydney season scheduled for November and December.
Victorian Opera has also announced that its production of The Who's rock opera Tommy, which had been due to open this Friday, will be put off to 2022.
The Australian Olympic Committee has lashed the South Australian government for imposing an additional 14 days' quarantine on a group of athletes returning to that state from Tokyo via Sydney.
The AOC said in a furious statement this afternoon that 16 South Australian athletes – currently in hotel quarantine in Sydney after returning from Tokyo – would be forced to do another 14 days of quarantine before being allowed in the community, making it a total of 28 days' isolation.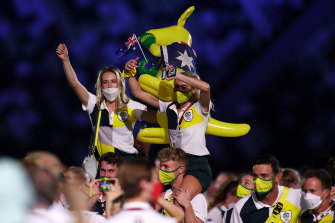 This would either be in a hotel or at their homes, pending approval from South Australia.
"South Australia is the only team to do this [28-day quarantine]," the AOC statement read. "The South Australian government's decision to ignore expert medical advice and the decision of national cabinet by imposing a 28-day period for returning Australian Olympians poses a significant mental health risk for those athletes."