Another man shouted at the Premier from a nearby location before he was also moved on by Protective Services Officers.
"Whether you support me or not, I will do everything I can to protect you from this virus," Mr Andrews said. "Shouting doesn't work against this virus. Interrupting anyone doesn't work against this virus. If frustration and anger was effective against coronavirus, we'd all be double-dose vaccinated by now. People are entitled to their views, that's fine."
A permit system will be introduced in border communities along the Murray River for two weeks from 1pm Thursday – but not enforced until 6pm Friday – to keep track of those moving in and out of Victoria.
"It's very important that we not only limit movement, we have the clearest picture of who is moving within that border bubble," Mr Andrews said.
Loading
"And before anyone says, 'Oh why would you do that?', if this virus can get from Sydney to Byron Bay to Dubbo to Armidale to Tamworth, then only a fool would think it couldn't get to Albury."
Victorian Chief Health Officer Brett Sutton said he knew NSW authorities were doing "as much as they possibly can", but cases in the state needed to plateau and decline before the risk to Victoria substantially changed.
NSW recorded 344 cases on Wednesday, including at least 65 who had been in public while infectious.
Regional Victoria's lockdown restrictions were lifted at 11.59pm on Monday.
Victorian Nationals leader Peter Walsh said the latest "clampdown" on border towns would be a "death sentence" for the communities, and urged the Premier to instead rely on contact tracing and rapid antigen testing.
Opposition Leader Michael O'Brien said the government should have eased restrictions in parts of Melbourne where there were no cases or exposure sites.
There were 41,571 test results processed on Tuesday while 23,811 doses of COVID-19 vaccine were administered in state-run clinics.
Changes to vaccination program to be announced
Loading
The Premier has foreshadowed further changes to the state's vaccination program and said he would have further announcements to make on rolling out AstraZeneca to younger Victorians at more mass vaccination hubs and opening up AstraZeneca appointments beyond the next four weeks.
Further business support packages are expected on Thursday.
The Premier has banned crowds attending Geelong's home clash against St Kilda this weekend, as discussions continue between the WA government and the AFL over shifting the finals series to Perth.
Victoria's lockdown extension, on top of low vaccination rates and long-lasting capacity constraints for venues, has also proven the last straw for the Australian Ballet, which has cancelled the rest of its 2021 Melbourne season.
Victorian Opera will also postpone its production of The Who's rock opera Tommy until 2022.
Meanwhile, COVID-19 response commander Jeroen Weimar says he is aware of a case of an individual impersonating an authorised Victorian government officer, who entered a person's home and asked for sexual favours in order to release them from quarantine. The matter is now with police.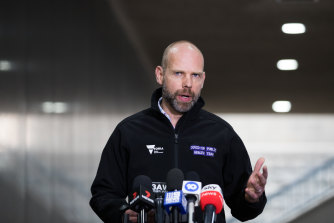 New cases linked to schools and hospitals have sent thousands of Melburnians into isolation. A grade one student at St Michael's Primary School and his father – a fully vaccinated doctor who worked at a Royal Children's Hospital clinic on Monday – were among Wednesday's new cases.
Melton is also an area of concern, after three family members, unlinked to others in the outbreak, tested positive.
Loading
Patients were turned away from emergency departments at two Melbourne hospitals for several hours overnight after more than 220 staff were forced into isolation due to a growing list of COVID-19 exposure sites in the city's western suburbs.
Professor Sutton said he was confident that health authorities could get ahead of the most recent outbreak, given that 14 of the 20 new cases were in quarantine while infectious.
Professor Sutton said authorities were working hard to establish a connection between existing chains of transmission and the City of Melton family who had recently returned positive tests.
"But I also want to call out to the people of Melton … if you are symptomatic, runny nose, sore throat, headache, fever, aches and pains, if you feel unwell, please get tested."
Caroline Springs Square has been identified as a tier-1 site for some individuals after 29 cases were linked to the shopping centre, with staff who worked there between July 27 and August 3 required to isolate for 14 days.
Professor Sutton said given the levels of transmission at shopping centres and schools during the Delta outbreaks, his team has had discussions with cabinet ministers about ways to improve ventilation in those settings.
"There are tens of thousands, hundreds of thousands of indoor settings that need infrastructural change in order to be well ventilated … that can't happen overnight," Professor Sutton said.
A respected aerosol scientist told The Age on Wednesday some of Delta's spread could have been prevented with improved ventilation of classrooms and public venues.
Schools closed, hundreds more isolating
A Catholic primary school in North Melbourne was closed on Wednesday and hundreds of staff and students told to isolate after a student tested positive for coronavirus after attending the school on August 5.
St Michael's Primary School principal Denise Hussey said in a statement sent to parents and carers on Tuesday that the school was closed until further notice to conduct contact tracing and do a deep clean.
"I understand this news will be concerning for many of you. I want to assure you we are doing everything we can to contain and slow the spread of the virus and ensure the health and safety of the whole school community," he said.
Loading
Students and staff from several junior classes are considered tier-1 close contacts and must get tested and isolate for 14 days. The remainder of the school is being treated as a tier-2 site.
Bacchus Marsh Grammar also returned to remote learning on Wednesday due to fears the Caroline Springs COVID-19 cluster could spread around the large school community.
The main campus of the non-government school sits just outside Melbourne's metropolitan boundary, however most of the school's 3000-odd students live in Melbourne's western suburbs, where the Delta outbreak is of most concern.
The school's Maddingley campus reopened on Tuesday, along with all other Victorian regional schools, but was closed again on Wednesday to all but the children of essential workers and vulnerable children after the Chief Health Officer asked the school to return to remote learning on Tuesday night.
"This is to manage the increasing risk of a student inadvertently attending while infectious, given the risk of undetected cases in and around Caroline Springs in particular," the school community was told in an email sent at 8pm last night.
Bacchus Marsh Grammar was hit with about 20 positive cases, including teachers and students, last month. No member of the school community has tested positive in the current outbreak.
Principal Andrew Neal said the school community was tired and frustrated about the new directive but accepted the health advice.
About a dozen schools in Melbourne have closed in recent days due to positive cases, including St Albans North Primary School and Christ the Priest Catholic School in Caroline Springs.
Two apartment buildings among new exposure sites
One floor of an apartment building in Melbourne CBD has been put into lockdown and testing crews were expected on-site on Wednesday morning after a resident on level 28 tested positive to coronavirus.
Victorian health authorities were expected to ask all residents of Vision Apartments, located at 500 Elizabeth Street, to get tested after a positive case was present inside the building on August 9.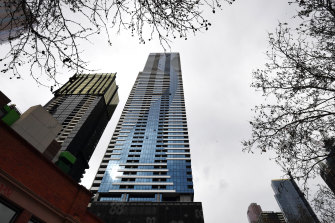 Some residents are tier-1 contacts and will be contacted directly by health authorities, while all others are tier-2 contacts.
Residents and visitors of a West Melbourne apartment building were also advised to get tested urgently and isolate until they receive a negative result after their building was listed as a tier-2 exposure site.
A positive case was present at the Royal Flagstaff apartment complex on Jeffcot Street in West Melbourne for five days from August 6.
Brimbank Shopping Centre and a bakery, petrol station and TAB in Melton were also added to the state government's list of venues visited by someone with COVID on Wednesday, taking the number over exposure sites past 300.
Sheriff will pursue all fines issued for COVID-19 breaches
Loading
Mr Andrews said he expected the sheriff to pursue all fines issued over COVID-19 restriction breaches over the past 18 months.
"The sheriff will chase down all of those fines," he said.
"Police already exercise significant discretion in the issuing of fines. I make the point, to every Victorian, there are many more warnings that have been issued than fines.
"You need to pay that fine. If you don't want the sheriff knocking on your door."
With Adam Carey, Michael Fowler, Jon Pierik, Nick Miller and Hanna Mills Turbet
Stay across the most crucial developments related to the pandemic with the Coronavirus Update. Sign up for the weekly newsletter.