"It's devastating for people who have already done 14 days," Mr Marshall told reporters on Thursday.
"It is a tough decision but we have got to take tough decisions to protect South Australia.
"This is a tough rule but … we're going to keep it in place in this instance. It is very, very tough and we feel for these athletes."
National Cabinet came to an agreement on June 28 that no Australian Olympian should be required to double quarantine on their return from Tokyo.
The AOC revealed on Thursday that South Australian Health only sent an email on July 29 informing them double quarantine would be imposed on returned Olympians flying into NSW.
The AOC hurriedly sought to re-route athletes due to fly to Sydney to Brisbane and Darwin but the email came after some of the 16 athletes concerned were already on their way to Sydney. The IOC's rules stated athletes had to leave Japan within 48 hours of their last event.
Cricket Australia were also blindsided by a late change, and team sources said if they'd known about the change of arrangements earlier they would have found another more welcoming return destination.
The Herald and The Age obtained a letter from Professor Spurrier to Cricket Australia's Head of Government Relations & Infrastructure, Joe Fennessy.
"I apologise for the late notification to your organisation," Professor Spurrier wrote.
"As you would be aware, South Australia has recently contained an outbreak of the COVID-19 delta variant through a statewide lockdown and the efforts of SA Health, SA Police and the South Australian community.
"While this outbreak has been addressed, there remains a very real risk of further incursions. This outbreak, the very serious outbreaks in neighbouring jurisdictions and the ongoing associated risks, continues to place significant demands on all aspects of South Australia's COVID-19 response system.
"SA Health has reviewed the Plan and unfortunately are unable to support the implementation of training privileges given the highly resource intense nature of this."
Professor Spurrier concluded by saying a variety of training equipment can be provided in rooms.
The squad is not scheduled to train at the Adelaide Oval until Sunday, the day after Port Adelaide play Carlton in front of 15,000 fans at the same venue. Carlton is flying in from Melbourne, which is in lockdown because of COVID. While strict protocols are in place for both sides the game is set to go ahead.
Carroll has asked the South Australian government to reduce the period of double quarantine imposed on 16 Olympians.
Carroll disputed the argument that athletes could have flown directly to South Australia to avoid double quarantine given South Australia were not willing to take people above their small quarantine cap, which also dictates how few international flights arrive in Adelaide.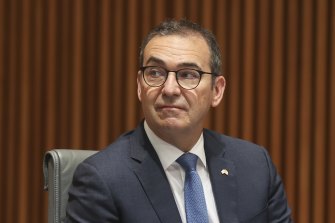 "We got offers from NSW and QLD, the West Australian government worked with us to get the hockey teams home, but we never heard anything from South Australia," Carroll said.
"The governments of New South Wales and Queensland have been brilliant, NSW offered to take on 400 athletes beyond their cap".
The AOC is concerned for the mental state of the 16 athletes affected by this decision and is frustrated no explanation has been given by the South Australian government dispute multiple appeals by the Olympic body. At least one athlete struggling with the state of their mental health has reached out to the AOC for support in the wake of this decision.
Australia's Olympic team chief medical officer Dr David Hughes said the decision "poses a significant risk to the physical and mental wellbeing of the individuals" and is without scientific justification.
"Without the detailed reasons, it's very hard to understand why these athletes are being required to undergo this additional quarantine period. A reduction in the period of quarantine would be a good outcome," Mr Carroll said.
Carroll said the AOC has learnt from previous Olympics that the first period after the Games is critical, "irrespective of whether they're on a high or low after the Olympics, the return home for athletes is a very important issue. This year we're dealing with a situation where they can't even get a hug from a loved one," he said.
Loading
On August 5, the AOC applied to the South Australian government for dispensation on the grounds all Olympians concerned were fully vaccinated, were tested daily and were living in a biosecure bubble.
"The AOC has sought to return as many athletes as possible to Australian states prepared to accept them however, the inherent restrictions around caps made avoiding Sydney logistically impossible. The NSW Government had been the most accommodating through that period," Carroll said.
The South Australian government rejected this appeal on August 9 and did not provide a justification. It was upheld on August 11 after the AOC asked the appeal panel to reconsider.
South Australian Olympian Molly Goodman says she wasn't told until two days ago that she would face an additional 14 days of home quarantine when she returns home.
Goodman competed in the Tokyo Olympics on June 30 as part of the woman's eight rowing event with her team finishing fifth and then coming home to begin hotel quarantine which she has almost finished.
Goodman spoke to ABC News Breakfast this morning after the Australian Olympic Committee challenged the South Australian government for its additional home quarantine demands.
"I was not informed of that until probably two days ago, at the most," Goodman said.
"So, no, I'm not sure about that. But we were definitely not told that.
"I'm not sure I've actually come to terms with it, to be honest. I haven't completely hated the first 11 days of this.
"It's quite nice to have a bit of time to yourself after five years of intense training with a whole group of people.
"It's a great lifestyle but I'm not sure about another 14 days. It's quite a lot to ask of the athletes.
"And being the only state requiring it, it's a bit confusing. I guess I have to think about it today and think of some other things I'm gonna have to do in quarantine."
Sports news, results and expert commentary. Sign up for our Sport newsletter.