The building watchdog has defended its decision to spend more than half a million dollars unsuccessfully pursuing the CFMEU to the High Court over a dispute where union organisers demanded a women's toilet on a Melbourne worksite.
Attorney-General Michaelia Cash disclosed that the Australian Building and Construction Commission had spent $432,469 on external legal fees in its attempt to fine the Construction, Forestry, Maritime, Mining and Energy Union for stopping work on a Brighton construction site in 2015. With internal costs and the union's High Court fees, the total fee would be much higher.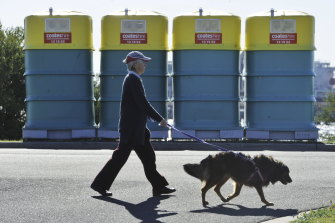 Labor and the union, which uses the "CFMEU" to refer to its construction division, called the expenditure as wasteful and inappropriate.
But a construction commission spokesman pointed to its 92 per cent win rate against the CFMEU in the 13 cases last financial year, with penalties totalling $3,010,790.
"The ABCC believes that the legal expense it incurred in this case was reasonable, noting that the trial was fully contested" and went through several tiers of litigation, the spokesman said. He said the commission had asked the High Court to hear the case because it raised questions about how important parts of Australia's industrial law works. The court rejected that request in June.
Loading
In 2015 two CFMEU officials went to a site in Bay Street, Brighton, where an apartment complex was being built and demanded a bigger shed for the workers, though it was technically large enough already, and a dedicated women's toilet. One also said there should be a union enterprise agreement covering the project. A woman working on the site had previously been forced to use the men's toilet.
Eight workers downed tools but the facilities were soon upgraded and work resumed. Initially, the Federal Court ruled the union had engaged in coercion and issued a $50,000 fine.
In response to questions from Labor's assistant government accountability spokeswoman Kimberley Kitching, Senator Cash revealed that case alone cost the ABCC $246,253 in external legal fees. Battling the union's ultimately successful appeal in the full Federal Court cost another $58,196. An attempt to take it to the High Court cost another $128,020.