Australia's charge into large-scale wind and solar is faltering, with investment in new projects drying up and construction jobs in the industry diving.
Figures from the Clean Energy Council for the second quarter of 2021 reveal three new projects across the country reached the financial commitment stage, the equal second-lowest number for any quarter since the start of 2017.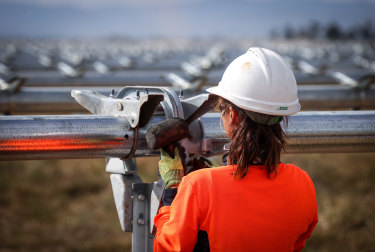 By capacity, those new projects will add 432 megawatts, or about the size of one coal-fired power station unit. That generation amount was almost one-third down from the quarterly average of 2020, or 70 per cent down on the 2018 average, the industry group said.
In the first half of this year, construction jobs in new wind and solar farms totalled about 1300, or about 70 per cent down on the industry's tally of 4000 in the first half of 2018.
Solar energy, which recently became the second-largest source of electricity in the National Electricity Market after coal, continues to prop up renewables. Since 2020, commitments for new solar farms amount to 2600MW. Over the same period, investors have brought one wind farm to financial close, with 203MW of capacity.
Loading
Kane Thornton, the council's chief executive, said the slowdown and job cuts were "a significant loss for the Australian economy".
"Investment in clean energy has fallen to levels not seen for several years as a result of the increased risks facing investors, including from grid connection and network constraints as well as the ongoing unpredictable and unhelpful government policy interventions and market reforms," Mr Thornton said.
The large-scale renewable energy investment figures come in a week when the Intergovernmental Panel on Climate Change's latest report has renewed attention about the need to decarbonise economies everywhere if dangerous planetary warming is to be avoided.