Early work on a cheap and easy technique to predict which COVID-19 patients will develop severe symptoms has shown promise, with researchers hoping it can eventually help overwhelmed hospitals prioritise cases.
The pilot study, led by researchers from QIMR Berghofer Medical Research Institute and the Indian Institute of Technology in Mumbai, showed that infrared scanning of blood samples can give triage health teams a clue about who is at risk of developing severe COVID-19 symptoms.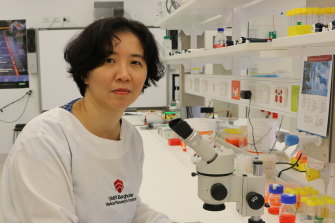 The infrared scanner measures the levels of different chemical groups in a sample.
The team developed an algorithm to work out which chemical signatures corresponded to patients who became very unwell from the virus.
"In particular, there were differences in two infrared regions that correspond to sugar and phosphate chemical groups, as well as primary amines, which occur in specific types of proteins," QIMR Associate Professor Michelle Hill said.
"We also found that having diabetes was a predictor of becoming severely unwell in this group of patients, so we fed this information into the algorithm."
The researchers used 128 patients in India to train the algorithm to recognise and distinguish between severe and more mild cases, and then tested it on a separate group of 30 patients, with an accuracy level of 85 per cent.
Professor Sanjeeva Srivastava, from the Indian Institute of Technology, said differences in blood samples from severe COVID-19 patients had been observed in other studies.
"From our study, we can say that there is a correlation between blood chemical signature and becoming severely unwell with COVID-19," Professor Srivastava said.