A man has been charged after he allegedly sent a fake positive COVID-19 result to a group chat, forcing a workplace to shutdown.
Police said the man underwent a COVID-19 test on Thursday and received a text message notifying him of a negative result about 6am Friday.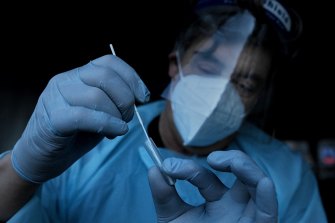 The man allegedly altered the message to display a positive result before sending it to a group chat, where one of the contacts notified his workplace believing he was a close contact.
The workplace suspended work for the day and instructed its workers to get tested for the virus as a result.
Following police inquiries, the man was charged through a court attendance notice with false representation resulting in police investigation.
He's due to appear in Dubbo Local Court on September 27.
Coronavirus fragments have been detected in wastewater at a coastal Victorian holiday town and in one of the state's largest regional cities, authorities say.
The Chief Health Officer's update, issued on Friday evening, said the new and unexpected wastewater detections at Shepparton and Lakes Entrance are significant, "as both areas do not have any active COVID-19 cases or current exposure sites".
The Shepparton catchment includes the suburbs of Shepparton, Kialla and small parts of Shepparton North and Orrvale.
The update said anyone who lives, works or has visited those areas between Monday, August 9 and Wednesday, August 11 should watch for the slightest of COVID symptoms and get tested as soon as possible if they develop.
The Lakes Entrance catchment includes the local government areas of Lakes Entrance, Lake Bunga, Kalimna, Lake Tyres and the Lake Tyres Aboriginal Trust.
The period of concern for that area is Sunday, August 8 to Wednesday, August 11 and, again, the update said anyone who lives or works in that area or visited it during that time should watch for the slightest of COVID symptoms and get tested as soon as possible if they develop.
West Australian Premier Mark McGowan says the public should be unhappy with the federal government after it spent more than $1 million of taxpayer money to intervene on Queensland billionaire Clive Palmer's High Court challenge of state border restrictions.
The federal government withdrew from the case, which was ultimately won by the states, but not before spending $910,660 on solicitors and external counsel and also giving $40,995 to a company of Mr Palmer's.
The figures were extracted from the government by federal Labor and have prompted a rebuke from Mr McGowan, who said the public should be unhappy with taxpayer money being spent to subsidise Mr Palmer and fight the case.
"We know what he is [Mr Palmer]," Mr McGowan said. "We've seen his latest efforts to undermine the vaccination program. [The federal government] helped him."
Mr Palmer has several actions against the WA government in the courts, including a defamation case against Mr McGowan, and has claimed he would fund a class action and an injunction if the state government coerced or incentivised vaccinations.
You can read more about this story here. 
Two schools in Dubbo, in NSW's west, have been shut down after students tested positive to COVID-19.
NSW Education said all staff and students at Buninyong Public School and Dubbo School of Distance Education must self-isolate until they receive further advice.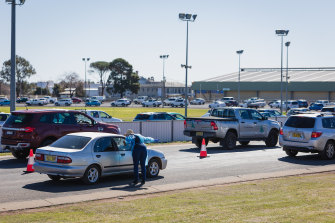 "The NSW Department of Education will continue to work closely with NSW Health to ensure the health and safety of all students and staff is maintained," a spokesperson said.
Dubbo on Friday recorded 17 new COVID-19 cases and a further two in Walgett, bringing the cluster to a total of 25.
Australia's largest shopping centre has been declared a COVID-19 exposure site.
Authorities identified Chadstone Shopping Centre in Malvern East in Victoria as a "tier 2" (casual contact) site on Friday evening.
Anyone who attended it between 4.26pm and 5.40pm on Saturday, August 7 has to get tested and isolate until they receive a negative result.
Authorities also specified Coles at Chadstone Shopping Centre as a tier2 site between 4.28pm and 5.33pm on Saturday, August 7, and identified a number of other new tier 2 exposure sites. They are:
Jemimas Tasty Place, Richmond – Sunday, August 8 between 12.05pm and 12.45pm
Anchovy, Richmond – Sunday, August 8 between 12.17pm and 12.52pm
Woolworths, The Hive Shopping Centre, Abbotsford – Monday, August 9 between 4.31pm and 5.11pm
Ritz Mansions, St Kilda – Friday, August 6 between 8.45am and 2pm, Monday, August 9 between 8.45am and 6.30pm, Tuesday, August 10 between 8.45am and 6.30pm, and Wednesday, August 11 between 8.45am and 3pm
Liberty Petrol Station, Flemington Road, North Melbourne – Thursday, August 12 between 7.30am and 7.55am
Little Frenchie & Co, Richmond – Saturday, August 7 between 10.19am and 10.55am
A full list of Victorian exposure sites can be found here.
A further two men have been charged over last month's unauthorised anti-lockdown protest in Sydney, one accused of stealing an officer's hat and the other of throwing mandarins at police.
Following investigations into the protest, officers on Thursday tried to stop a man in Canley Heights before he fled on a bicycle.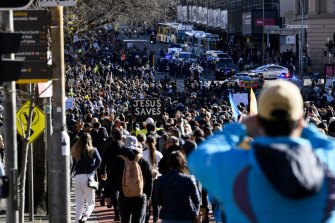 Police followed the man to Adams Park before he rode along Orphan School Creek towards the Cumberland Highway where he was arrested and taken to Fairfield police station.
About 2pm, police executed a search warrant at a Canley Heights home and found a NSW Police cap which officers allege was stolen off the head of a senior constable at the protest.
The 20-year-old man was charged with robbery in company, riot, and not complying with a public health order and appeared in Burwood Local Court on Friday where he was refused bail.
Meanwhile, a 21-year-old man was arrested in Sydney's inner city on Friday and charged with riot, two counts of throwing a missile at police at public disorder no actual bodily harm, and not complying with public health directions.
Police say the man participated in the unauthorised protest, during which he threw mandarins at a mounted police officer.
The man was refused bail and will appear in Parramatta Local Court on Saturday.
Australia is facing, possibly, its worst health crisis as the Delta variant of COVID-19 continues its march around the country sending multiple states into lockdown.
Sydney is about to enter its eighth week of shutdown with more local government areas being impacted each day, Melbourne is in its sixth lockdown and Canberra has just announced its first positive case in over a year.
Away from the pandemic the global climate change crisis has come even more in focus with the damning report from the Intergovernmental Panel on Climate Change released this week and tensions between global superpowers become increasingly fraught.
The role of the media in covering the unrelenting and constantly evolving news cycle has never been more important nor more scrutinised.
Today on Please Explain, executive editor Tory Maguire joins Nathanael Cooper to explore the role the media plays in disseminating critical information.
Victoria's Chief Health Officer Brett Sutton says it's "heartbreaking" to have to explain to his young children that they can't do normal things like see friends when the state is plunged into lockdown.
3AW radio host Tom Elliot asked Professor Sutton on Friday evening whether he considered the social impacts of COVID lockdowns when he advised the state government.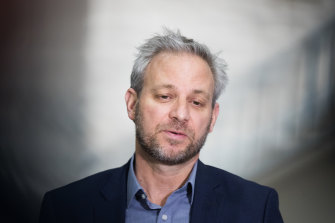 Elliot asked: "For example, trying to explain – as I have to do every week – to an 11-year-old why she can't play football, she can't go to school, she can't see friends, and what that does to her and tens of thousands of other Victorian school children.
"Do you at least consider that before you impose lockdowns or extend them?"
Professor Sutton said he "absolutely" does, and has to explain the same thing to his 10, nine and six-year-old.
"It's heartbreaking," he said.
"But again, what alternative pathway have we got available to us? Because we know what happens when restrictions are not done in a timely way or are not sufficient to control transmission.
"It explodes in numbers, and then you've got one of two alternatives: you've got an absolutely out of control epidemic that kills people and sends thousands to hospital, or you've got a later and harsher lockdown that goes for weeks and months."
Professor Sutton said that, when you consider what a couple of weeks does to people's mental health and sense of wellbeing, consider "what months and months would do".
"We've been there before as Victoria and we don't want to have to face that again," he said.
Professor Sutton said he didn't think authorities should jump to mandate COVID vaccinations across the board for employers, as they needed to balance that against what they considered proportionate.
Health authorities have warned it's a scary time for western NSW with Aboriginal children making up a large number of COVID-19 cases in the region.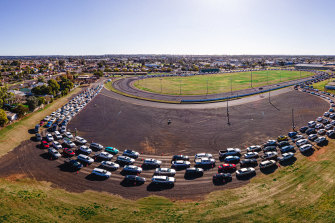 On Friday, Dubbo recorded 17 new cases and a further two in Walgett, bringing the cluster to a total of 25.
Scott McLachlan, the chief executive of the Western NSW Local Health District, said that figure was likely to grow with most of the new cases infectious in the community.
On Wednesday, long queues formed at Dubbo showground as people rushed to get tested.
Indigenous affairs reporter Cameron Gooley has more on this story here. 
US regulators say transplant recipients and others with severely weakened immune systems can get an extra dose of the Pfizer or Moderna COVID-19 vaccines to better protect them as the delta variant continues to surge.
The late-night announcement on Thursday (Friday AEST) by the Food and Drug Administration applies to several million Americans who are especially vulnerable because of organ transplants, certain cancers or other disorders.
Several other countries, including France and Israel, have similar recommendations.
It's harder for vaccines to rev up an immune system suppressed by certain medications and diseases, so those patients don't always get the same protection as otherwise healthy people — and small studies suggest for at least some, an extra dose may be the solution.
"Today's action allows doctors to boost immunity in certain immunocompromised individuals who need extra protection from COVID-19," Dr Janet Woodcock, the FDA's acting commissioner, said in a statement.
The FDA determined that transplant recipients and others with a similar level of compromised immunity can receive a third dose of the vaccines from Pfizer and Moderna at least 28 days after getting their second shot.
The announcement comes as the extra-contagious delta version of the coronavirus surges through much of the country, pushing new cases, hospitalisations and deaths to heights not seen since last winter.
Importantly, the FDA's decision only applies to this high-risk group, estimated to be no more than 3 per cent of US adults.
It's not an opening for booster doses for the general population.
AP